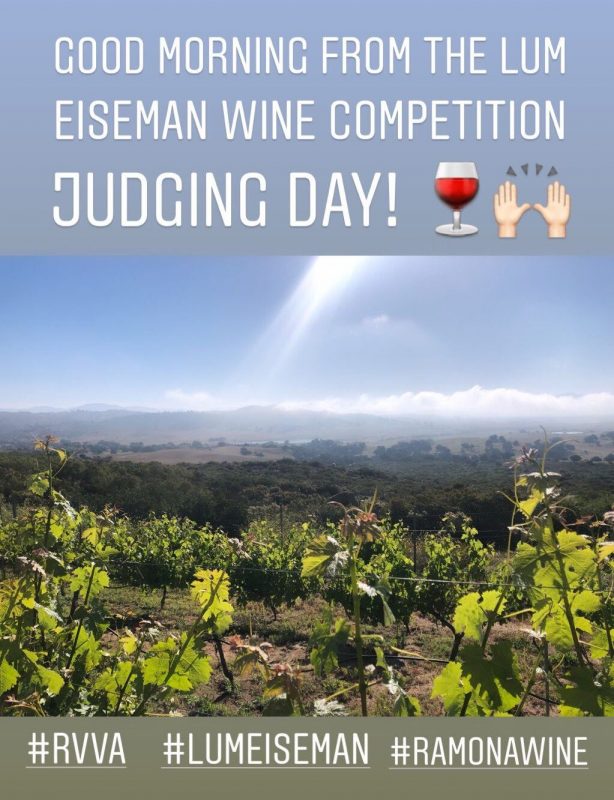 The Ramona wine region has Lum Eisenman to thank for helping teach winemakers the fine art of winemaking. Eisenman, considered the godfather of the Ramona wine industry, has mentored and taught many winemakers how to make wine, how to discover faults, how to correct faults and the entire winemaking process. He also founded the San Diego Amateur Winemaking Society.
Lum Eisenman came to Del Mar in 1971 and was a physicist and an amateur winemaker. He became "the" mentor for San Diego vineyard owners and eventually the founder of the San Diego Amateur Winemaking Society. He has authored many articles and wrote "The Home Winemakers Manual" that many local winemakers have in their library, or sitting on their desks and referred to regularly.
To honor him, the Ramona Valley Vineyard Association (RVVA) hosts an annual Lum Eisenman and Ramona Valley Wine Competition. Each year, awards are chosen from entries of red, white, and rosé wines made from grapes grown in San Diego County. This is a great way for Ramona and San Diego County wines to be showcased and acknowledged. It is also a great way for vintners to get constructive feedback on their wines.
This year local judges consisting of sommeliers, winemakers and knowledgeable oenophiles gathered in Ramona for double-blind judging of submitted wines. A double-blind judging is when both the wine pourers and the judges don't know whose wines they are. They do know the varietals though.
With a luncheon provided by John Little Catering.
After the scores were tallied, wine lovers, wine industry people and the wineries gather at the Main Stage Restaurant in downtown Ramona for the awards dinner.
The judging event and the awards banquet were was coordinated by Don Bartick, Event Chairman, who also emceed the award program.
Many of the wines were available for tasting
Winners By Category
Best of Show Commercial:
Double Gold: Principe de Tricase Winery, Estate Aglianico Barrel Select 2015, Winemaker Alfredo Gallone (Ramona)
Best of Show Amateur:
Gold: Panacea, Red Blend Reserve, Winemaker Josh Mann (Amateur) 2017
Double Gold:
Fallbrook Winery, Estate Montepulciano 2017, Winemaker Euan Parker (Fallbrook)
Trevi Hills Vineyards, Estate Primotivo 2017, Winemaker Renato Sais (Lakeside)
Vineyard Grant James, Syrah 2017, Winemaker Susanne Sapier (Ramona)
Gold:
Barrel 1 Winery, Estate Cabernet Sauvignon Grand Reserve 2014, Winemaker Robert Garland (Ramona)
Hungry Hawk Vineyard & Winery, Estate Rose of Tempranillo 2017, Winemaker Mike Embly (Escondido)
Farquar Family winery, Super Tuscan 2017, Winemaker Scott Farquar (Amateur) (Ramona)
Mahogany Mountain Vineyard and Winery, Michael's Cuvee Red Wine 2015, Winemakers Kim, Michael & Geoffrey Hargett (Ramona)
Milagro Winery, Estate Chardonnay 2017, Winemaker Hugo D'Acosta (Ramona)
Milagro Winery, Estate Sauvignon Blanc 2017, Winemaker Hugo D'Acosta (Ramona)
ZXQ Vineyards, High Speed Wobble 2016, Winemaker Andrew Klotz (Escondido)
ZXQ Vineyards, WFO 2016, Winemaker Andrew Klotz (Escondido)
La Finquita Winery & Vineyard, Muscat Canelli 2018, Winemakers Charlie & Jess Koehler (Ramona)
Hatfield Creek Vineyards & Winery, Syrah 2016, Winemaker Elaine Lyttleton (Ramona)
Highland Hills Winery, Ruby's Barbera, 2014, Winemaker Richard McClellan (Ramona)
San Pasqual Winery, Chardonnay 2016, Winemaker Linda McWilliams (La Mesa)
Old Julian Vineyards, Estate Petite Sirah 2016, Winemaker John York (Ramona)
Ramona Ranch Winery, Petite Sirah 2014, Winemaker Micole Moore (Ramona)
Ramona Ranch Winery, Estate Tannat 2014, Winemaker Micole Moore (Ramona)
Three Hills Winery, Estate PicPoul Blanc, Winemakers Tobias & Carrie Panek 2018
Crystal Hill Vineyard, Estate Syrah 2017, Winemaker Scott Warner (Ramona)
Crystal Hill Vineyard, Estate Merlot 2017, Winemaker Scott Warner (Ramona)
Fallbrook Winery, Estate Cabernet Franc 2016, Winemaker Euan Parker (Fallbrook)
Fallbrook Winery, Estate Montepulciano 2017, Winemaker Euan Parker (Fallbrook)
Vineyard Grant James, Estate Port 2016, Winemaker Susanne Sapier (Ramona)
Vineyard Grant James, Merlot 2016, Winemaker Susanne Sapier (Ramona)
Vineyard Grant James, Estate Sangiovese 2016, Winemaker Susanne Sapier (Ramona)
Vineyard Grant James, Estate Rose 2018, Winemaker Susanne Sapier (Ramona)