I was inspired after meeting Bobby Navarro of www.100eats.com last weekend.
He inspired me for two reasons: because he used words I didn't know about like Food Hall and Curated seating. (I know! I'm easily entertained.) Bobby is an inspiration to me. He started out in the writing world as a blogger at http://www.100eats.com/ with a goal of dining in 100 restaurants in 100 consecutive days and progressed on to having his own events company.
Bobby explained that Food Trucks that are becoming stationary are now called Food Halls. He told me of the Anaheim Packing District and I was so intrigued I had to go check it out. Oh, and he said they had "Curated seating". Huh?
For those of you who don't know either what that means, it is when there is a Food Hall and each food truck who is becoming a restaurant makes their own seating according to their design. This is opposed to, for example, a food court. At food courts there are restaurants surrounding a common area and then generic seating in the center for patrons. People can get food from a variety of food counters and then meet who ever they're with at a table. Everyone can eat from different places and one table. Curated seating means that each restaurant has their own seating and their own design. Kind of like mini-restaurants.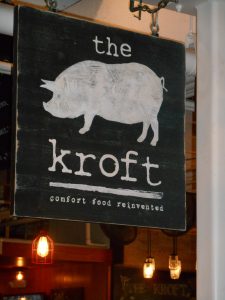 The Anaheim Packing District is housed in an old orange packing plant. There are two stories with an open arboretum in the center. In the middle of this is a bandstand where musicians play and entertain guests. Today I was there for their 1-year anniversary. This too was exciting as they had two Disney princesses visiting and sashaying to the music of the band.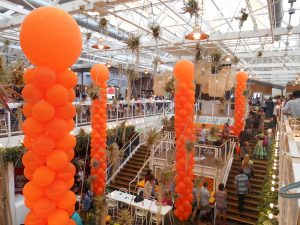 The air was vibrant with the electricity of hundreds of excited people enjoying the festivities.
I didn't get a chance to eat at any restaurant, but I was able to walk around and see what this place was all about. I have to say, it is really exciting. I love to watch society transform. Remember when we were all so excited about food trucks? (And we still are.) It's a lot of work to be a food truck. You need a commercial kitchen to prepare your food and then you have to drive all over the place and serve food. It has to be exhausting and difficult.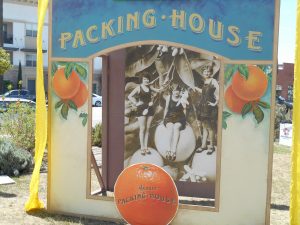 I will return to the Packing District and do a more in-depth article, but I was just so excited to see a town hall and curated seating that I had to share this with you right away.