Barra of Mendocino and Girasole Vineyards
Charlie Barra's Legacy
One short generation ago, Charlie Barra's parents immigrated to the USA from Piedmont, Italy.
His father worked on the family vineyards in Italy and when they arrived in California, they were able to acquire their own vineyards. When Charlie was born he had inherited his father's passion for the vine. He worked side by side with his father, Antonio, starting at age 10. In 1945 when he was a junior in high school Charlie leased his own land and started his own vineyards. By 1955 he purchased 175 acres at the headwaters of the Russian River. He set about planting Chardonnay, Riesling, Cabernet Sauvignon and Pinot Noir. Eventually he added Petite Sirah, Sangiovese, Merlot, Pinot Blanc, Muscat Canelli and Zinfandel.
Today Charlie is fondly referred to as Mendocino County's "godfather of grape growing". This was because he was the first farmer to try single varietal vineyards as opposed to Burgundy and Chablis- standard table wine.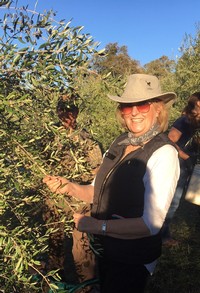 Charlie passed away in 2019. His wife Martha and their children have taken over the running of the business. Winemaker Randy Meyer transitioned from being a customer of Barra Winery to being winemaker in 2019. He continues with organic winemaking.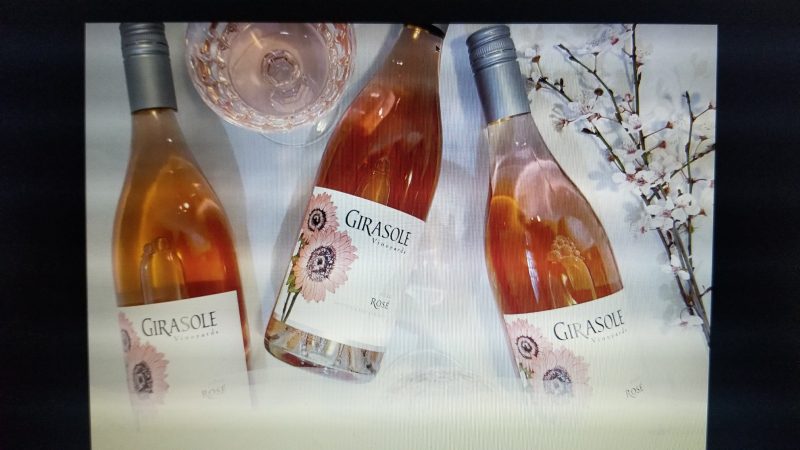 They have 2 labels; Barra, which is the best of the best, their premier brand. They are small-batch wines and are treated with kid gloves and aged in expensive French oak. The second label is Girasole- which is Italian for sunflower. This brand has an attractive label that is pleasing to women, who are their major market. Everybody loves sunflowers (the Barra's even grow them on the property) and the happy label reflects that joy. The wines are more affordable. They're lighter, with less oak profile, less winemaker input. They let the grapes speak for themselves.
This rosé may be light in color, but it's delightful and fruity in flavor. Made from 51% Pinot Noir and 49% Zinfandel it is light in color with subtle flavors of strawberry/raspberry/white peach and citrus. This fruitiness is balanced with minerality, this wine appeals to a wide range of rosé lovers- myself included. And the price isn't bad either- retailing at $15.00.
2019 Charlie's Blend (Girasole Vineyard)
As a tribute to Charlie, this vintage is for him. They thought it was fitting since it used grapes from each of their three vineyards and reflects the hard work of an organic farming method they've used for all of his years. In fact, this won Double Gold at the prestigious 2021 San Francisco Chronicle wine competition.
This fruit bomb is 39% Merlot, 29% Cabernet Sauvignon, 16% Petite Sirah and 16% Zinfandel (I hope that adds up to 100%). It's so juicy, the fruit jumps out of the glass. It has a rich ruby color. The flavors were equally exciting with flavors of raspberry, toasted marshmallow and vanilla. This medium-bodied wine has a silky smooth mouthfeel and a long finish. And the price isn't bad either- retailing at $16.00.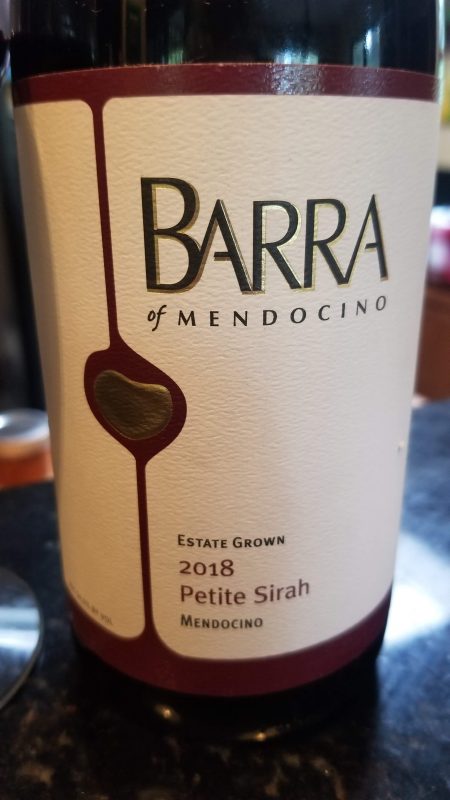 In my opinion, Mendocino is meant for Petite Sirah. I've tasted many, many Petite Sirahs and this wine excels in every aspect. The tasting notes on this wine say "the wine is deep purple in color with aromas of cedar, black pepper, ripe blackberries and earthy spice notes. Extremely full-bodied with rich flavors of cocoa, dark roasted coffee and caramel. Opulent tannins and dense mouthfeel, this wine delivers a long, lasting finish." This wine won Double Gold, Best of Class at the 2020 Harvest Terroir Challenge. Amazingly the price is only $26.00.
For recipes to pair with their wines go to:
https://www.barraofmendocino.com/News—Events/Recipes-/-Pairings
It's wonderful that, since this winery has owned it's land for so many years, they are able to sell their wines for extremely affordable prices. You can find their wines at Bristol Markets or they ship to 28 states. To purchase their wines online go to: https://www.barraofmendocino.com/