Carlsbad sign
Even though I've lived in San Diego for a long time and eaten at many restaurants, I like to take food tours and learn the history of an area, learn about the new chefs, new restaurants and even shops in the area. That is why I joined a group of writers in Carlsbad, North County San Diego for a day of discovery.
I did not know that Carlsbad is a food haven. There are historical restaurants and creative restaurants. There are shiny new restaurants and old faithful and comfort food restaurants. With our very knowledgeable and kind and friendly tour guide, David, we visited a few of each of these categories.
Food writers group
With a quick stop for a photo op in front of the central fountain in downtown Carlsbad, we head across the street to Caldo Pomodoro. This restaurant has been a cornerstone of the food community since 1991. With new owners from Hollywood, it's fun to look at all the photos of movie stars who have eaten here. Italian food is their specialty, with plenty of gluten-free options. Their meatballs are famous, and you can smother them with your choice of sauces: regular or hot and spicy. While you're here try one of their housemade sausages. Our tastes are: artichoke hearts with mozzarella cheese, garlic bread and baked meatballs in a marinara sauce. For all the information you would like to know go to: http://www.caldopomodoro.com/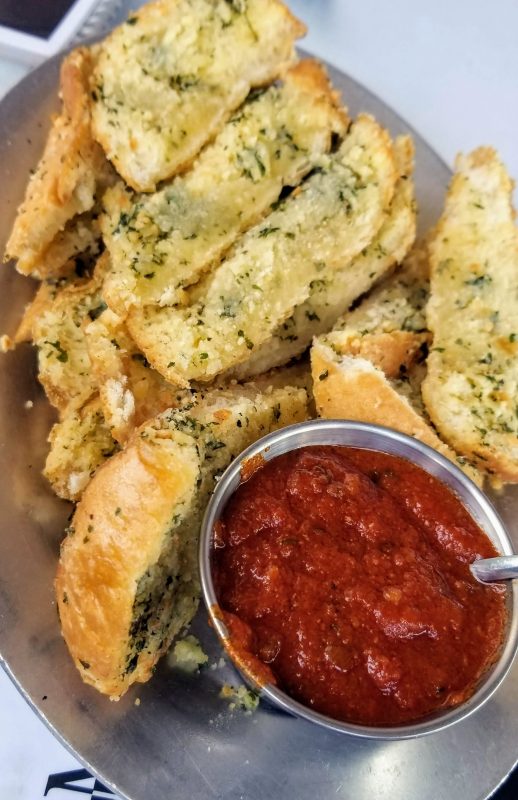 Across the street we stopped in at the Humble Olive Oil store for a few oil and balsamic vinegar tastings. This is always dangerous for me as I want to buy everything! And I did. I got a few vinegars and we've already used them on our salads. http://www.humbleoliveoils.com/
Not on the tour, but very intriguing to me is the outdoor courtyard area called Choice Superfood Bar and Juicery. (http://choicejuicery.com/) A new concept of urban gathering places with food dispensaries made out of recycled storage containers and a grassy play area for people to hang out and kids to play. They have a juice bar, an alcohol bar and a breakfast sandwich counter called Crackhead. I have since found out that they have four locations throughout San Diego. The newest one in Little Italy. I will definitely be checking that out!
Choice bar

Choice Juicery

Grassy area for relaxing

The Vertical Garden Wall
We walked over to the Village Faire shopping area where we stop in at Gregorio's Italian Restaurant for a taste of their Eggplant Sliders on a Hawaiian Roll. The outside patio is beautiful and very conducive to a nice meal in the fresh ocean air. Honestly, I'm not a fan of eggplant, so I didn't taste them, but judging from how fast they were devoured by the other group members, they must have been good! Find their menu here: http://www.gregoriosrestaurant.com/
Gregorios Restaurant
The Village Faire hosts many shops and restaurants. I could spend an afternoon here just walking around and visiting all the great stores. We end our afternoon at Gaia Gelato. They have their own lab with machines imported from Italy and produce their own gelato in the traditional method, using the famous Carlsbad alkaline water. We were generously offered four different flavors of the yummy delight. My favorite is definitely the blood orange. The other three were good, too! They were espresso, lavender-honey and dark chocolate. To see the current flavors go to: http://www.gaiagelato.com/
Gelato
Off to Witch Creek Winery for a little winetasting. Now you're talking! This urban winery has been in Carlsbad for many, many years. They have a new tasting room that shares with a coffee store, so if you don't like wine, pop over to the coffee bar and try something exotic. For wines and events and music go to: www.witchcreekwinery.com
Our host pouring the Cool Cat

Cool Cat Sparkling Wine

Witch Creek Winery
From there we visited the Carlsbad water kiosk. I've heard about this water for years, but really didn't know what it was or where it was. Turns out this water has traveled all the way from Cleveland National Forest way east of San Diego. There's a great story on the internet of the history of this water.
John Frazier

Carlsbad Water Kiosk
https://www.carlsbadfoodtours.com/carlsbad-california/history-of-carlsbad-alkaline-artesian-mineral-water/. Suffice to say that people come and fill up their water containers and swear by the healing power of alkaline water. I have to give it a try sometime.
Senor Grubbys
Senor Grubbys, which is a local popular Mexican food restaurant, delighted us with tacos al-Pastor. Their meat is cooked in a style similar to gyros meat on a spit, they infuse it with pineapple slices and rub it with a proprietary chili. Oh my!! Now this I loved! I mean who doesn't like a spectacular taco? Check out their menu at: http://www.eatgrubbys.com/menus/
Chocolate Bar
Did I forget the chocolate? Of course no tour is complete without a stop at a chocolate store, right? Again, I'm not a chocolate person, so I can't critique the chocolate. But the store, which was packed with people who do love chocolate, is really cute and offers many chocolates as well as coffee, wine and gifts. I looked through the wines! We were given a sea salt chocolate caramel that everyone devoured. For information go to: http://www.carlsbadchocolatebar.com/
Art on the street in Carlsbad
I love that I tried some restaurants I already knew, but didn't know the house specialties, and I love that we walked from one place to the next. Park your car and walk, no driving, like is so ever-present in California. I'm going to take my husband back to a few of these places soon.