A San Diego Dining Experience
"Please come to a Cow by Bear dinner," my friend said.
"Cow by what? A what dinner?"
"Cow-By-Bear," she said again.
"What is that?"
"It's a dinner party experience. 1 table, 14 guests, 5 courses and wine pairings. Oh, and the chef wears a bear outfit," she laughed.
"Why?"
"So you can't recognize him."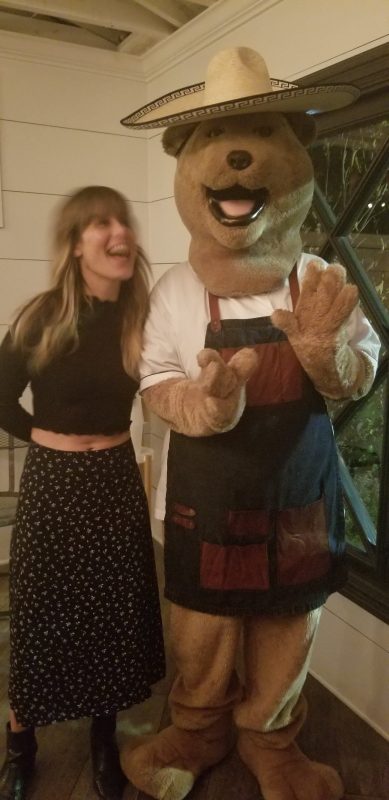 Oh, Robin intrigued! So, as a writer, I researched what this whole thing is. I went to their website and here's what they say:
Cow by Bear is the vision of Chef Bear, an Alaskan brown bear known the world over for his pop-up events. After escaping from a traveling circus in his youth, Bear is said to have had an awakening in which he learned to walk, talk and, ultimately, cook. Since then, he has traveled the globe, putting on dinners of all kinds on every continent.
Bear arrived in San Diego in 2011 and launched Cow by Bear. After six years, he ran away before resurfacing in Washington State to open up Cow by Bear Seattle in an untraditional expansion technique. The San Diego location continued to operate under the guidance of head chef Osa Bear and their protégé and cub, Lil' Osito Bear.
Well, all I can say is what an experience! Every 2 months is a different country and this evening we were roaming through Mexico. But not typical carne asada and tacos. Oh no.
The invitation said Go to the black house in Little Italy.
There's a black house?
Yes, there's a black house.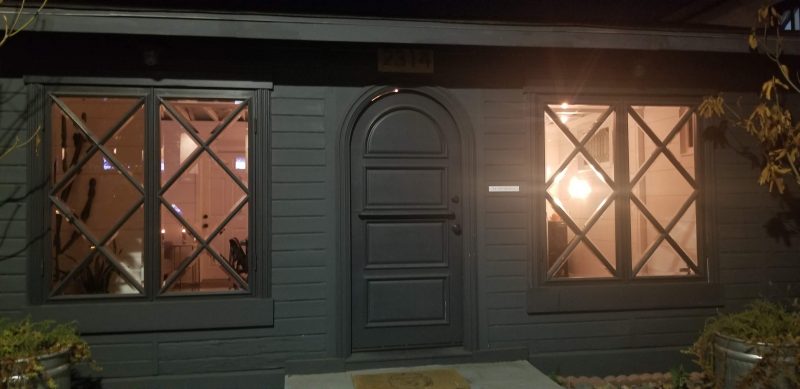 We were greeted by our hostess and Chef Bear and a Paloma's Revenge cocktail of Tequila, Ancho Reyes, Grapefruit juice, Simple Syrup and Soda Water. Yum
Jill, our hostess told us that we would arrive not knowing anyone and leave with 13 new friends. That is so true. Everyone introduced themselves and started chatting, we soon knew all the people, where they were from and this was before the first course of "Still Life by Bear", jicama, grapefruit, radish, avocado puree, petit herbs and grasshopper vinaigrette.
"The Ballad of El Guapo" was the 2nd course. Seared Sea Scallop, roasted kabocha squash, sesame salsa macha and pomegranate. This was perfectly paired with a 2018 Lomita Discreto Encanto , a Sauvignon Blanc from Valle de Guadalupe.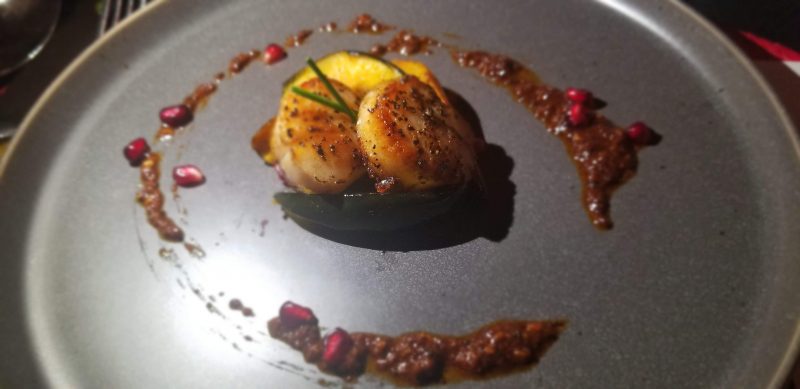 We had an interlude when Bear came out to visit with us.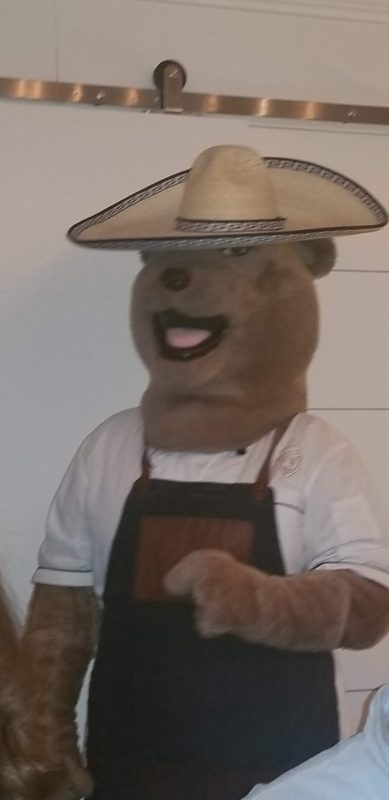 Course 3, "A Walk in Oaxaca" was the MOST delicious chicken chile verde tamale, with charred onion foam, cotija cheese and topped with pickled peppers. This was the most incredible tamale I've ever had. The pickled peppers were amazing. It added just the right bit of zip to the tamale. The wine pairing was a 2017 Bichi Rosa Rosé from Tecate, Mexico. I didn't know that there were any wineries in Tecate. Now I need to go on a mission down there to have a look/see.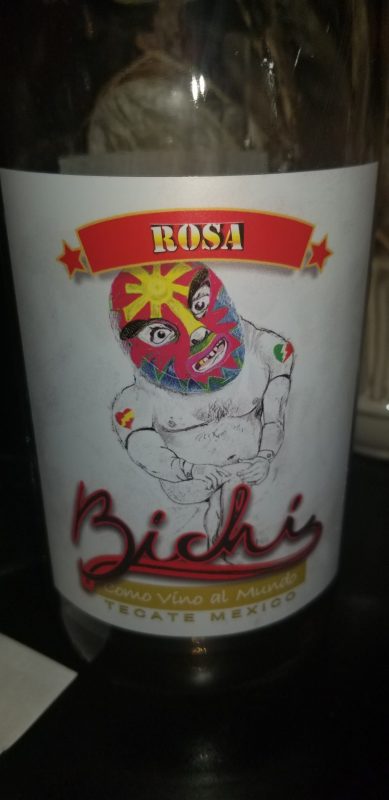 Here we had an unexpected break from food when we were introduced to a guest who represents Mezcal from Oaxaca. She had 3 different offerings for us (liquid treasures!).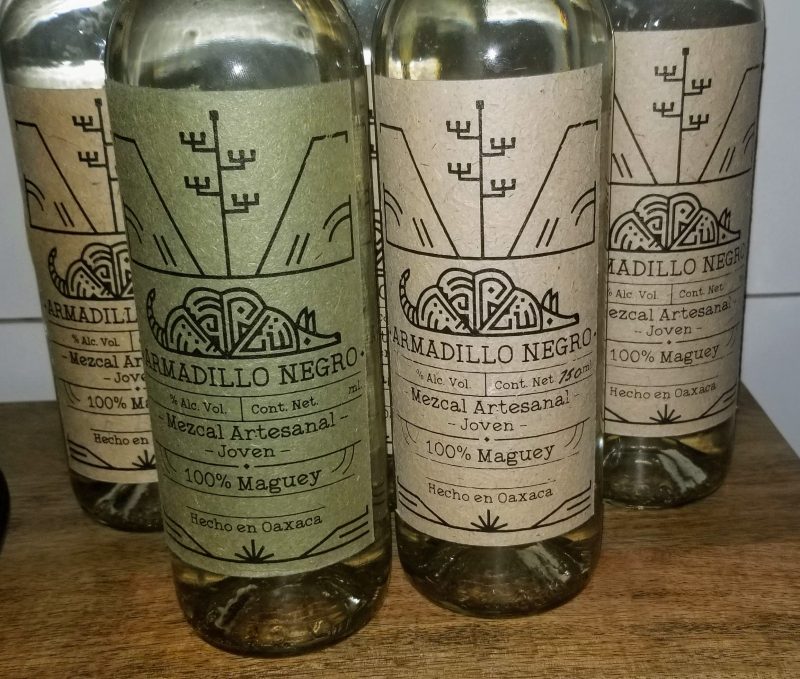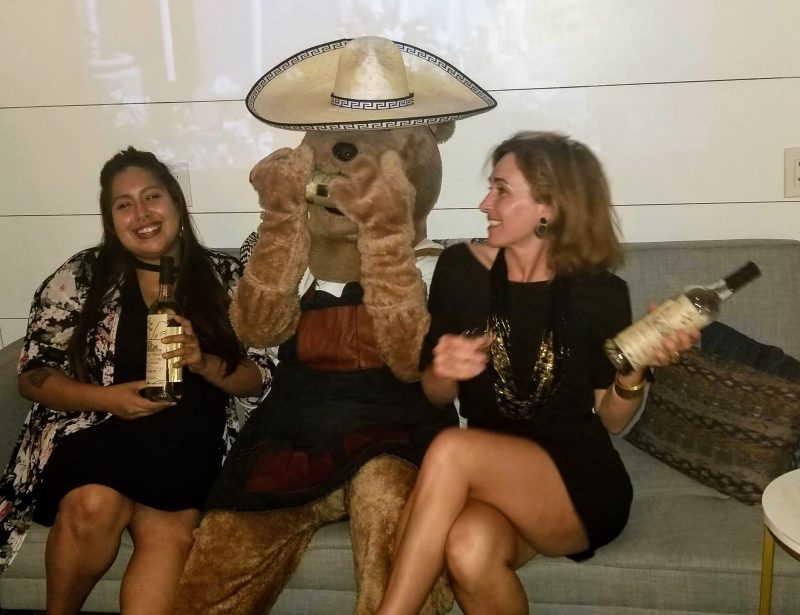 Then, of course, curiosity killed the bear! Chef Bear had to come out to see what was going on. Quick photo opportunity and time for our food to digest.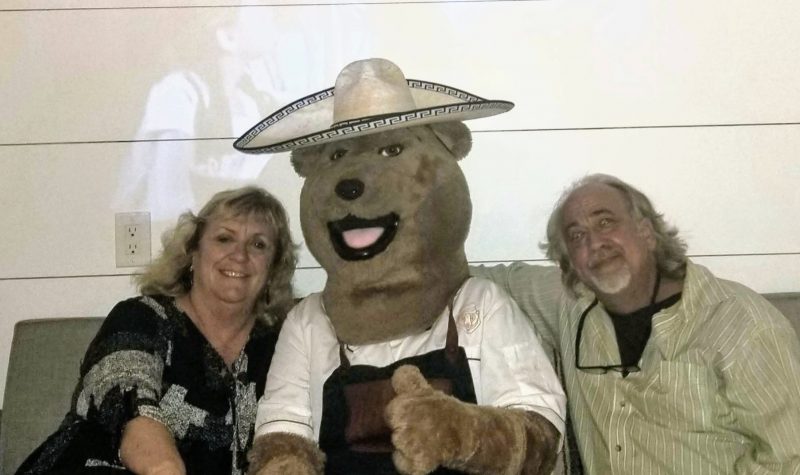 After some fun learning about mescal, we had our 4th course. The most amazing boneless beef short ribs in the most amazing (did I already say that? Well it was!) mole negro with rice d'abuelita, shallots and cilantro. I can still taste this wonderful flavor in my memory weeks later. The wine pairing was a2015 Lomito Tinto de la Hacienda. This blend of Cabernet Sauvignon, Merlot and Shiraz from Valle de Guadalupe was a great pairing. Not too bold to overpower the food or too weak to not hold up to the mole.
Dessert was a Guava and Sweet cream Pan Dulce with coconut and habanero salt. I ate this so fast I didn't get a photo- Darn it!!
Now Chef Bear could relax and try the Mezcal- but alas, it couldn't fit through his mouth. Or was the chef a her? I'm not convinced the chef was male. Who was the chef? I guess we'll never know.
According to their website, they're going to release a Food by Bear cookbook. I can't wait!!
To read all about this dining experience and to order tickets go to: https://www.cowbybear.com/