Cultivating Good:
E.A.T. (Extraordinary Artisan Table)
Harvest 2U
EAT@home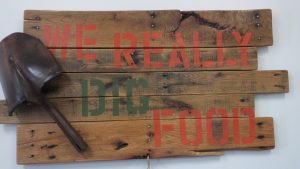 Any business with the name Cultivating Good has to be good in my eyes. Temecula is fortunate enough to have just that company. It is a partnership of three entities: E.A.T. Restaurant and Marketplace (Extraordinary Artisan Table), Harvest 2U and EAT @home.
Leah Di Bernardo, owner and Slow Food visionary has been sating palates for a few years now. She felt that kids weren't eating properly and she wanted to show her daughter that good food can also taste good. She has initiated 26 Edible and Academic school garden programs in the Temecula Valley. I went to her first location because I was in search of good gluten-free food. From then on I was hooked.
E.A.T. grew and expanded and moved into Old Town Temecula. The extremely convenient location is easy to reach driving into the north end of downtown or if you're out browsing the shops, it's easy to pop in for a meal or a snack. You will find a large variety of paleo, vegan and gluten free, sumptuous food.
Chef Matt Cassell came to Temecula after training with superstar chefs like Mario Batali and Gordon Ramsay. His wife is the pastry chef. We are lucky to have the two of them following their passions here in Southern California.
Of course everything is organic and locally sourced within 50 miles. They create simple, approachable seasonal meals that are healthy, easy and delicious.
Organic isn't always the "best looking" food, but it's the inside that counts. They have a motto "Eat Ugly".
The second arm of the business is Harvest 2U, a CSA.  Community Supported Agriculture purchases a share of farmer's crops by season and distributes the food weekly to local customers. They deliver food 52 weeks a year. This is due in part to the farms being located in multiple microclimates and extending their seasons. Recipes are included in the weekly delivery, just in case you need ideas for how to cook the item.
Don Webber is the man behind this CSA. He has been helping families eat healthy for years before joining with Leah. What sets this CSA apart from others, besides the fact that they serve their clientele year round, is their relationships with the farmers. Don and Harvest 2U care about their farmers and their families. They foster strong relationships so everyone can survive and live their passion.
Some farms are New Roots in Pauma Valley. They are two farms of refugees from Somalia: Somali Bantu Tribe and Bantu Mamas. Another farm is Solutions Farm which focuses on solutions for change. They consist of homeless people who are given work and a chance for a new life.
Employees get to go to the farms and work the fields. It always helps to see where the food is grown, how it is grown and to respect the food.
The third component of this entity is home meal delivery. They offer a variety of plans to fit the needs of many families. The "Healthy Lifestyle" package is 10 meals and 10 power snacks. You tell them what your family likes doesn't like and sit back and enjoy healthy meals delivered weekly. I can't think of a better way to eat and feed your family. No more running through a fast food line just to get food into hungry tummies quickly.
The Artisan Marketplace inside E.A.T. features local food artisans. Previous Chef Kevin Grant has branched out on his own with a company called "krafted". He is making special sauces and products to kick up food for the home chef. Also featured are Temecula Spice Merchants, Temecula Olive Oil, and Marquette Apiaries, for sweet, fresh honey. The products are always changing among the 30+ artisans featured.
To say these two visionaries are inspiring is almost too soft of a word. We all want to cultivate good. We all want to eat well, live long and prosper. Supporting local farms and businesses is a good start.
Now maybe a little exercise and then a nap!
Be sure to check their website for events, menus, times and to sign up for their services. Go to: http://eatmarketplace.com/ or http://www.harvest2u.com/