Let's Try Some Great Australian Wines
I love learning about new wine regions. Recently I was introduced to the wine region of Wrattonbully Australia, located between Adelaide and Melbourne. No longer one of the "best kept secrets" of the Australian wine scene, now their fruit are gaining worldwide attention as the region grabs trophies, medals, and international accolades.
https://www.wrattonbullywineregion.com/history/
Although this is inland it boasts a maritime climate, rich red soil that is well structured and fertile, perfect for growing grapes, reliable winter rains, cool nights and warm days during the growing season. Up until a few years ago, this region was relatively unknown, even though the first grapes were planted in 1885. Today 50 grape growers and 20 wine producers manage 2600 hectares of quality grapes.
One such winery is Eight at the Gate Winery. That's an odd name, right? The story is so cute though. Two sisters, Jane Richards and Claire Davies, own this winery and each of them has 4 kids. The kids would always hang out on the fence while their mamas worked. Someone recommended the name Eight at the Gate Winery and it stuck.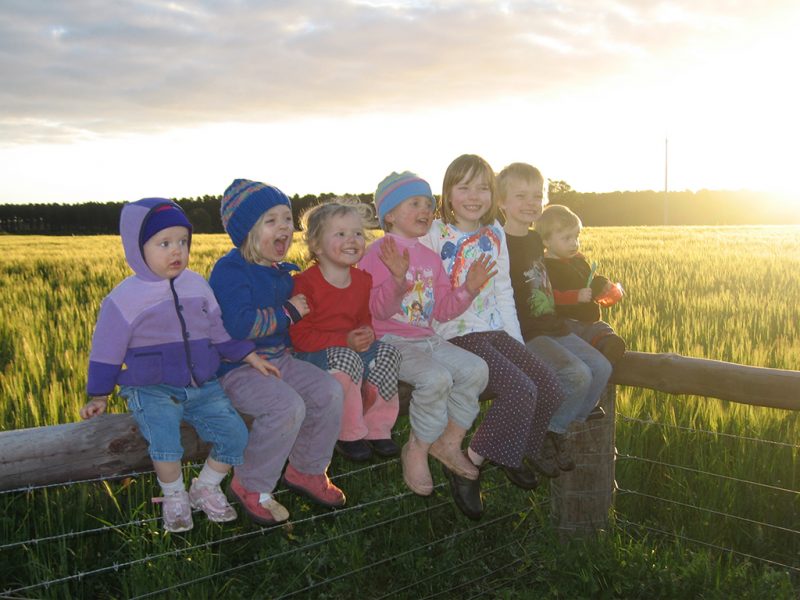 Claire, the winemaker, studied viticulture at Roseworthy while Jane is the business person. They purchased Lanacoona Estate and set out to make it their own.
Australia is famous for its Shiraz (Syrah) as well as its Chardonnay. And Eight at the Gate does not disappoint. What I loved about their Chardonnay is that they were the perfect representation of the wine, just a wee bit more subdued than those we taste from California. Could it be the "seasoned" French oak barrels? I had to look that up to understand what that meant. They take the barrel outside, take the bung out (plug for those who don't know the term) and let the barrels sit for 1-2 years.
The Wine Review Council gathered and paired foods with four Eight at the Gate wines. We tasted two Chardonnays, a Shiraz and a Cabernet/Shiraz Blend.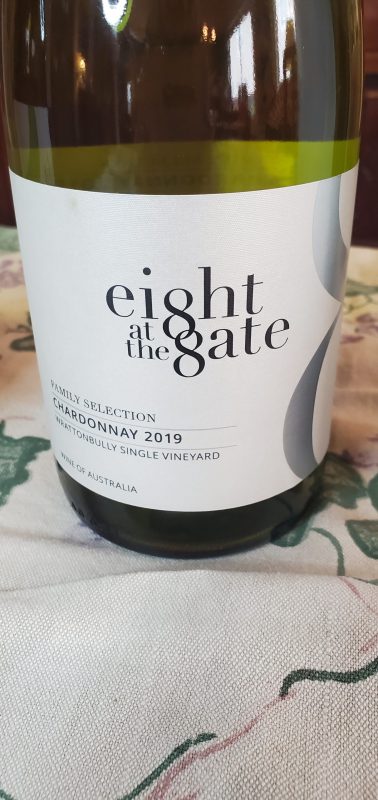 2019 Family Selection Chardonnay ($38)
We actually ended the tasting with a wine that usually starts the pairing. That is because we matched it with a Pavlova Dessert. If you're not familiar with this dessert, it is the national dessert of New Zealand. It is a meringue dessert with egg whites, lemon curd, sugar and corn starch. The pavlova was topped with berries. This paired perfectly with this wine.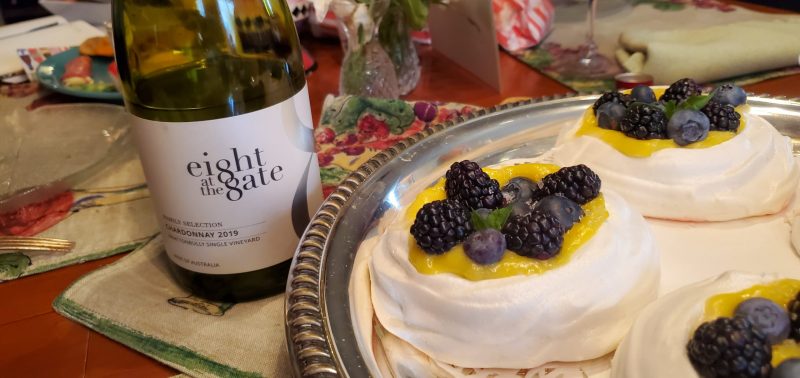 Chardonnay is the fourth most widely planted grape in this wine region. The Chardonnay grape of this area shows great character and flavor. With flavors of apricots, grapefruit and "bready" character with good acid structure.
This wine is lightly oaked, which I appreciate. It is a medium straw color with a citrus nose (smell) and flavors of stone fruit.
2018 Chardonnay ($18)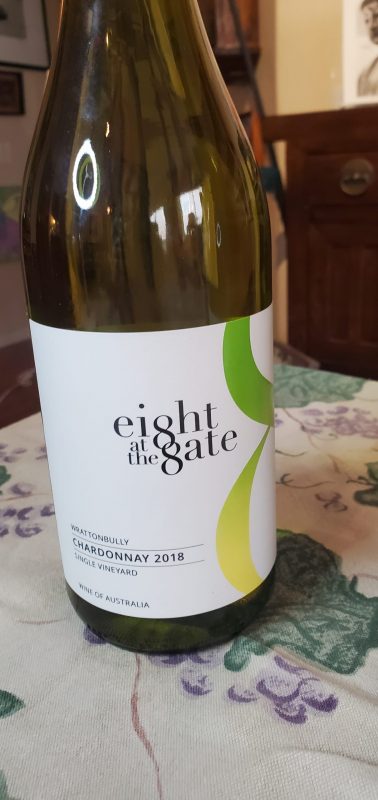 I was blown away with this Chardonnay. It is lighter than a Californian Chardonnay with a pale straw color and lightly oaked. The expression of this wine is spot on. It is one of the best Chardonnay's I've ever had.
Marc made Grilled Cheese Sandwiches made with Gruyere, White Cheddar and Granny Smith Apple. He topped the sandwich bites with apple slices. This pairing also was spectacular. The gooeiness of cheese enhanced the wine.
2016 Cabernet/Shiraz ($28)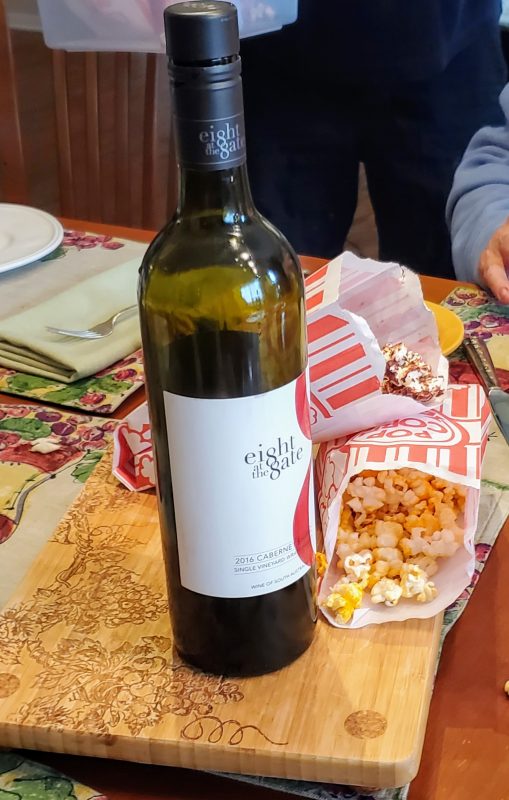 My friend Linda, went crazy with her pairing of this wine. She brought two different types of popcorn: one was cheddar cheese and the other was drizzled with chocolate. I must admit I was skeptical, but remembered once when a writer brought a corn dog to pair with sparkling wine. So, I kept an open mind and sure enough, I enjoyed this- mostly the cheddar cheese.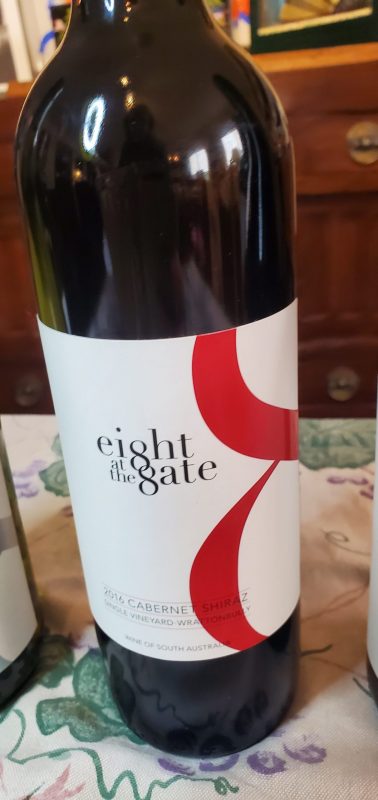 The tasting notes of this wine say it best. "Deep ruby with a nose of sweet cherry, dark berry jam, fig leaf, orange rind, bay and woody spice." The wine also had flavors of black currant, spiced cherry, cedar and subtle dried herb notes. As I was tasting this wine I was trying to pull out each of these flavors. This is a big and unique wine and you don't typically hear of these flavors in a Cabernet, let alone a Shiraz.
2016 Family Selection Shiraz ($48)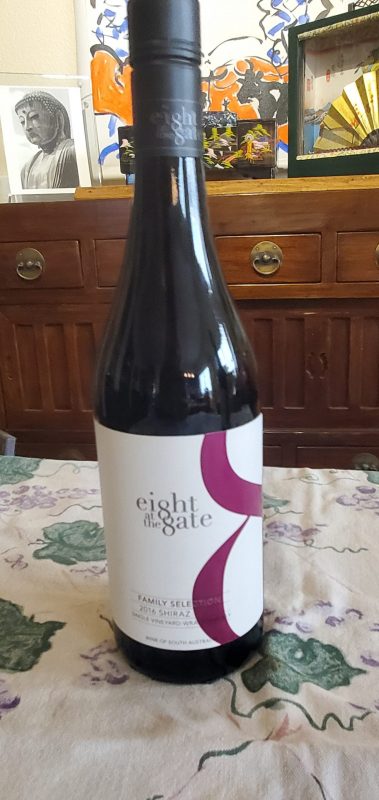 Shiraz (Syrah) is the 2nd most widely planted variety in this wine region. According to the details I have researched, this region has a long growing season, culminating ina dry and sunny April make it easy to bring to optimum ripeness.
As most of you know, I'm a Syrah gal. I'm always in search of a great Syrah. This wine did not disappoint. I agree with the winemaker's notes about this wine: a deep purple color it was velvety smooth with ripe berry fruits and polished tannins. The finish was smooth and long.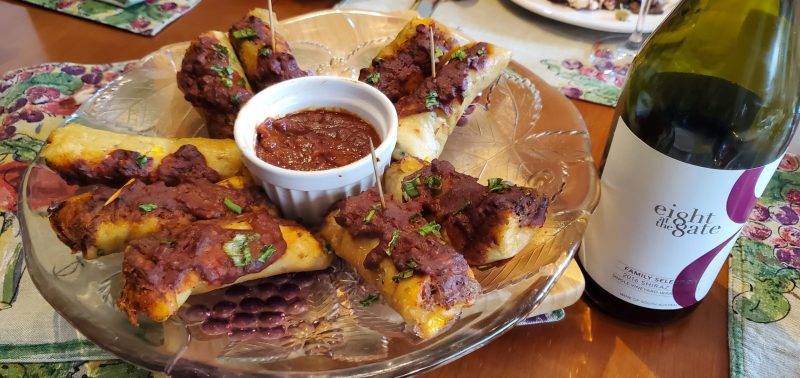 Marc paired this wine with pork tamales with two different sauces: Mexican and a Texas BBQ Sauce.