Petite Sirah is all about passion. Jo Diaz with PS I Love You generously provided the Petite Sirahs for the Wine Review Council to review and pair with foods. Jo and the group really love Petite Sirah and love to promote this New World grape.
Petite Sirah got its name because of the size of the grapes, not because the flavor is petite. The key to making a good Petite Sirah is to tame the tannins from the skins and bring forward the fruit flavor. It's one of the most powerful reds on earth and is a cross between powerful and elegant. It fares well against Global Climate Change and should continue to be a strong wine in the marketplace.
Due to high tannins and intense flavors, this wine can pair with bold foods, but it can also pair with lighter food. We paired some of the wines with big foods and then we even paired it with a quiche and it was perfect.
Scheid 2016, Petite Sirah
Hames Valley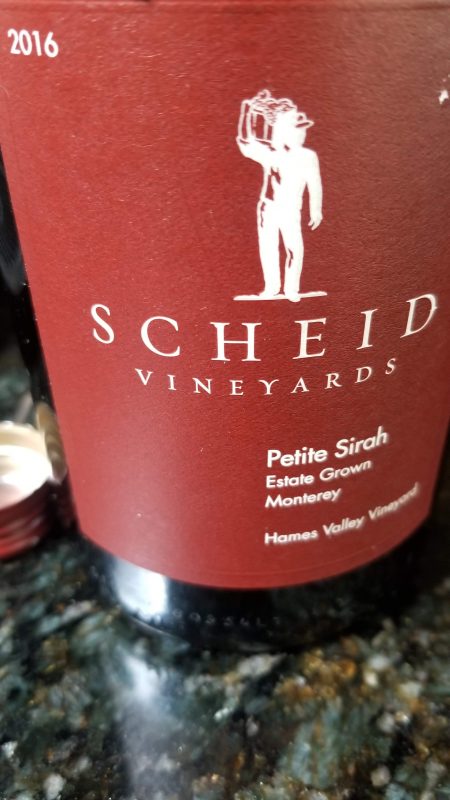 Scheid Vineyards, located in Monterey County, northern California is a prime location for growing this grape. It is cooler with a large diurnal shift of almost 50 degrees from morning to night. The warm days, cool nights and a long growing season make this an ideal locale for big, tannic reds.
What started as an investment project turned into a passion project for the Scheid family. Started as the Monterey Farming Corp, they grew grapes and sold them to local wineries. Today they have 12 vineyards along a stretch of 70 miles in Salinas Valley.
The winemaker's notes say this vintage is ultra-ripe, full-bodied and opaque in color. The nose is ripe and bold with blackberry jam, plum and cedar aromas. The palate is fleshy in texture, with excellent depth, firm structure and a long mily tannic finish with a hint of clove.
This wine paired with Moroccan Beef Stew and was a perfect pairing.
Biale 2017 Petite Sirah, Palisades Vineyard, Napa Valley
Biale Winery dates back to 1878. 1907 Domenico and Gilda Barberis purchased the property and planted grapes and plums, which they continued until the 1990s. Petite Sirah was the premier grape. Today Palisades Vineyard is owned by Felicia Woytak and Steve Rasmussen who take great pride as stewards of this historic landmark.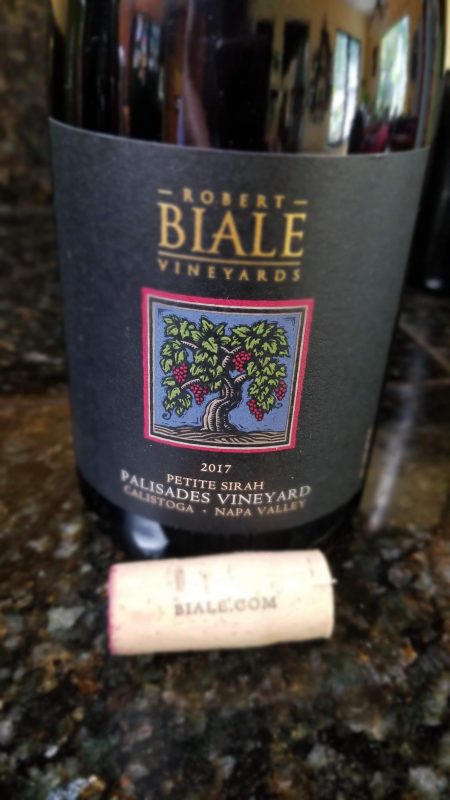 The unique soil of this vineyard comes from igneous rock and volcanic upheaval millennia ago. 2017 had an ideal growing season; a wet winter and a summer of above average temperatures, with a heat spike at the end of the growing season, pushing the grapes to perfect ripeness.
The winemaker's tasting notes talk of deep purple ink color, dusty stony notes of minerals, dark rye bread, dried blueberry, chocolate cake, lavender and espresso.
This wine paired nicely with Chicken Enchiladas in Mole Sauce. It can totally hold up to mole.
Anchor Valley, 2017 Petite Sirah, Rogue Valley, Southern Oregon
This limited production Anchor Valley Winery wine comes from Agate Ridge Vineyard, in Eagle Point Oregon. This multiple award winning wine was also given 91 points and Editor's Choice for Wine Enthusiast Magazine.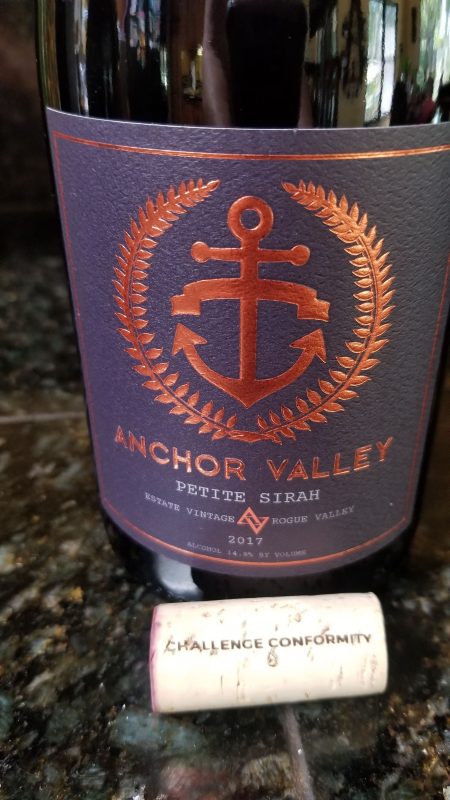 The winemakers tasting notes are that this wine is big, bold and beautiful with layers of juicy plum, blackberry, anise and earl gray tea with hints of chocolate. The texture is velvety with perfectly balanced tannins.
This wine was paired with a spinach, cheese and potato quiche