Located on the northern 33° parallel, Fallbrook, CA is known as the Avocado Capital but recently has become known for wine grapes. Shangri-La is a perfect description for this verdant valley with its unique Mediterranean micro-climate. This small community located 20 miles north of San Diego is surrounded by mountains and relatively close to the Pacific Ocean. Happy climate. Happy grapes. 76° average in the day, with cool breezes in the afternoon and nighttime temperatures down to 42°. That's a perfect diurnal shift and the grapes reflect this.
Fallbrook Winery is one of San Diego's oldest wineries. It opened in 1981 primarily to produce Sparkling wines. It was purchased by the current owners about 20 years ago and has been overhauled. The vineyards were replanted with Bordeaux varietals. They include Cabernet Sauvignon, Merlot, Cabernet Franc, Petit Verdot and Malbec. Other varietals include Syrah, Grenache and Sauvignon Blanc.
Meet the Winemaker and co-owner
Euan Parker, winemaker for Fallbrook Winery, has elevated their wines with his extensive training. He grew up in a wine making family in New Zealand then moved on to Margret River in Australia, over to France, then Spain and now to sunny Southern California. His education is reflected in his wines. I find his wines very balanced and very true to the typicity of the grapes.
Fallbrook Winery's Grape Varietals
All estate wines are designated with the 33°N on the label. The winery is proud that they are certified sustainable. They compost wherever possible. No herbicides or nasty chemicals will be found on their vineyards and winery. Estate grapes include Cabernet Sauvignon, Cabernet Franc, Merlot, Petit Verdot, Grenache, Syrah, Sangiovese and Aglianico.
I was invited to the winery to tour the vineyards, winemaking facility, enjoy lunch and taste their wines. This made me very happy as I've had this winery on my radar for a while now. I've tasted their wines around San Diego and wanted to meet the owners and winemaker.
I'm a sucker for bud break every year. To me it represents new possibility, a new chance, a new season. I love to take pictures of the soft green buds as they emerge from the hard, brown vines. They peek out to have a look around and see what the weather's doing. Then they burst forth with such force that it's amazing to watch. The growth on vines can be a few inches a day. It's incredible to watch.
Owner Ira Gourvitz and Euan led me on a tour of their production facility and pointed out different equipment as well as the cement tank that they're housing for a customer who has contracted them make a large batch of wine. The winery is at capacity with their production and can't grow larger due to country regulations. It will be interesting to see where and how they grow next.
We started our afternoon with a lively rose. I'm not a huge rosé fan, so to win me over is no small feat. I loved this wine! It is mostly a rosé of Sangiovese with a splash of Merlot, Grenache and Montepulciano. It is a perfect patio wine. Light yet very flavorful.
I always say some of the greatest grapes from the San Diego region are Merlot, Sangiovese and Cabernet Franc. I was fortunate to try all of these wines and they did not disappoint.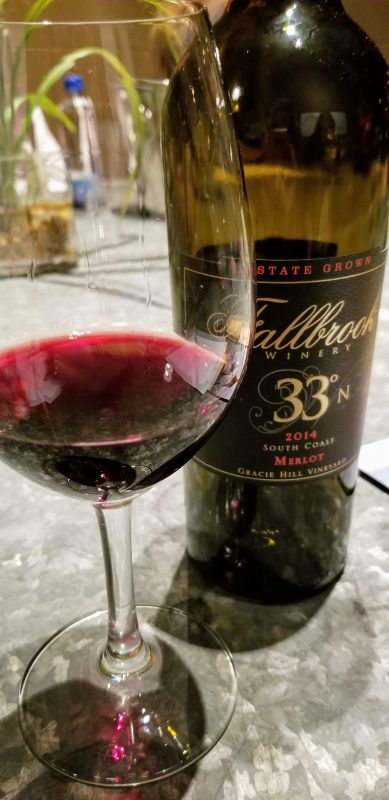 Merlot has been characterized as a beginner's red wine, but Fallbrook Winery's Merlot is not in that category. It has red fruit flavors, easy tannins and a bit of a bite on the finish. Merlot tastes different in different regions and San Diego has something in the soil that really challenges this wine to stand on its own. And it does.
Cabernet Franc is generally savory, medium-high acidity and makes your mouth pucker a bit, but not too much. This is usually a blending grape, as it adds a nice structure to wine. It's exciting to see it as a stand-alone wine varietal here in San Diego.
Their BDX blend is famous throughout San Diego. The name is derived from the airport code (which is incorrect) for the Bordeaux Airport in France. Every year it's different, but it generally is made-up of many of the Bordeaux grapes they grow. Cabernet Sauvignon, Cabernet Franc, Merlot and Petit Verdot.
There are many more wines to try at Fallbrook. They also have a BDX White blend that is a mix of Semillon and Sauvignon Blanc. Next time I'll try that.
Fallbrook Winery is open to taste or take a tour by appointment. They will be happy to host you, just reserve in advance at https://fallbrookwinery.com/visit or call ahead for reservations at (760) 728-0156.