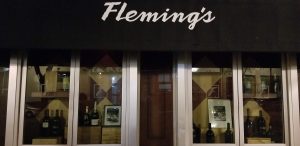 Flemings Steak House
Get the Perfect Steak – for You
I always have fear of ordering a steak in a restaurant, for fear that I risk the wrath of the chef. I prefer my steak medium-well done. To steak people, this is a disgrace. It's against all the rules. But, as I say, I'm the one eating it, and it's how I like it. So, I rarely order a steak at a restaurant.
That is until I went to Fleming's Steak House in downtown San Diego. After much discussion with my husband where I debated on ordering fish or steak, I sheepishly ordered a Prime New York Strip steak, Medium-well. The server didn't flinch, so I figured I was ok. And I was. I got the most perfectly cooked steak that was perfect to my liking.
I started my meal with French Onion soup. Hands down the best French Onion soup I've ever had. It was darker and thicker than any soup that I've ever had.
We tried some of the side dishes: the Yukon Gold Mashed Potatoes and Roasted Rainbow Carrots. Both were delicious and well-prepared. Actually, my husband thought the mashed potatoes were the best he'd ever had.
In an effort to "take one for the team" I ordered the New York Cheesecake for dessert! Can I just say- yum! There are no more words necessary. Ok, maybe thick and rich and extremely tasty.
For San Diego Restaurant Week they will offer a $50 dinner menu:
Three different salads: Caesar, Fleming's Chopped Salad and Wedge Salad
For the main course: 8oz Filet Mignon and Lobster Tail
And for dessert: New York Cheesecake or Triple Layer Chocolate Caramel Cake
Our server was fabulous.  I can't say enough about the wonderful, attentive service that we had. It's a fine art for a server to know when to approach the table and when to step back and wait. Our server was a master. We had extreme attentive service.
For those of you who don't like to drive downtown, the restaurant is conveniently located at the Convention Center Trolley Stop. Taking the trolley downtown is very easy and saves the hassle of trying to find parking. They do offer valet parking if you do decide to drive there.
When you're choosing the restaurants you want to try during Restaurant Week on January 20-27, 2019, I highly recommend that you add Fleming's Steak House to your list.