Inspiration from the Rhône Wine Region in France
20 miles west of Medford Oregon lies the Applegate Valley. In the heart of the Southern Oregon wine region, this valley starts just north of the California border and stretches for 50 miles. The crystal clear Applegate River meanders through forested hillsides and a fertile valley with meticulous small family farms growing organic produce, and roaming herds of grass-fed cattle. Within this terrain, according to the Applegate Valley Vintners Association, is a special 275,000 acre wine appellation known as the Applegate Valley AVA. (American Viticultural Area) Along the Applegate River is where you'll find many of the wineries.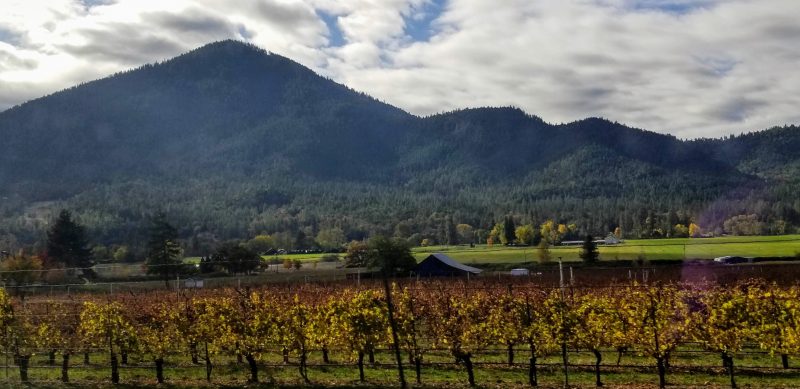 This afternoon a group of wine writers visited Cowhorn Vineyards for a chance to taste the cooler climate wines and explore the unique narrow valley. We were joined by Bill Steele, after he finished punch downs in the winery.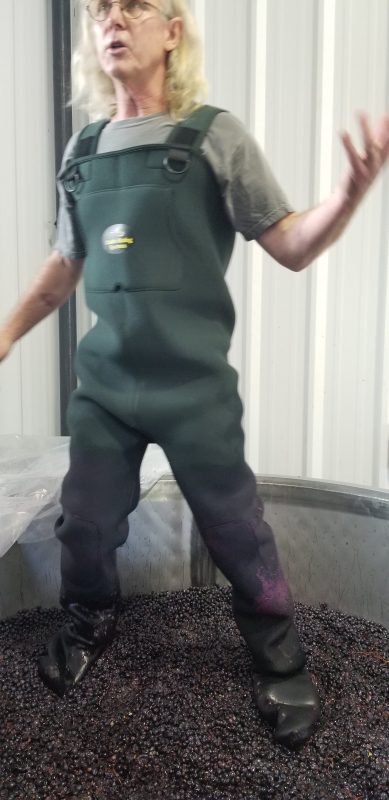 Bill and Barbara Steele left their lives in San Francisco where Bill was a stock picker on Wall Street and Barb was a CFO of a manufacturing company out of Marin County. Barb also did financial analysis for wineries in the Napa/Sonoma region and got the bug to have her own property. She went searching and eventually found a lovely property along the river that had been left stagnant for about 15 years.

"When we  bought the property we had no idea what we were going to do," Bill Steele said. "We weren't farmers. I'd never even been on a tractor before. Our philosophy was analyze the land and let it tell us what to grow, instead of imparting our will onto it."

They did extensive analysis of the soil (remember they're finance people and love analysis!) and found that it was very similar to the rocky soil of Châteauneuf-du-Pape and the Hermitage Wine Region in France. So Rhone wines it was. 
Early on they met Alan York, a biodynamic and viticultural specialist, who helped them start their vineyards. "We planted some vines in  2002 and more in May 2005 planted. 2006 was our first harvest and 2007 our first wine was released.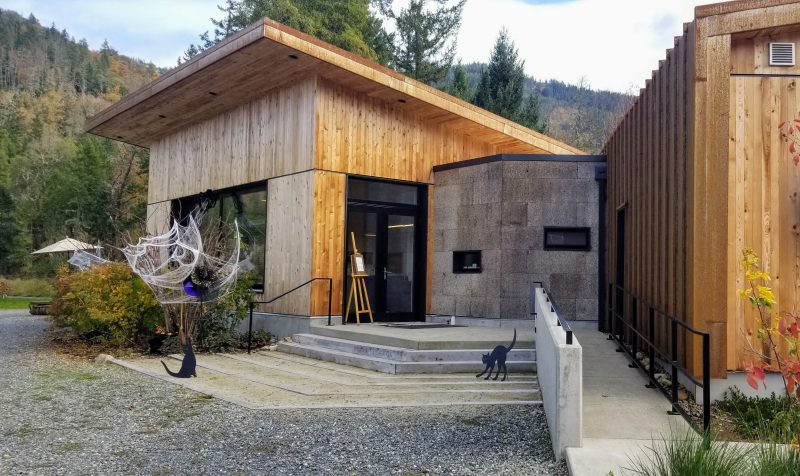 They took a 360° approach to their sustainability."We were always going to be biodynamic. That is how we lived in Marin," Bill said. "This tasting room is very special. It was built to the equivalent of what biodynamic farming is to the building industry. We were the first tasting room and small business in the world to achieve the Living Building Certification. (Read about this at: https://living-future.org/lbc/)

"This building is a smart building. It is functioning at net positive. Both energy and water. All of the materials are non-carcinogenic. No off-putting gases. Most of the building supplies  are locally sourced or repurposed. We did get an exception on the high definition, triple pane windows. They were imported from Poland. No one in the USA was willing to use their ingredient list to ensure that gas between the panes was Argon. The building is air tight. 99.94% air tight. We have 2.5 tons of recycled cellulose in the insulation to keep the building at 68°. The water heater is attached to the dishwasher in the kitchen. When we run the dishwasher, the steam is drawn into the water heater and warms it up. The bio product is cool air and it's sent back into the kitchen. Closed loop system. Hot air out/cool air in," Bill said.

Their Wines
We sat in the lovely tasting room overlooking the valley and tasted wine while chatting with Bill. Full disclosure, I got so involved in talking with him I forgot to write notes about the wine. I have used Cowhorn's tasting notes in this article.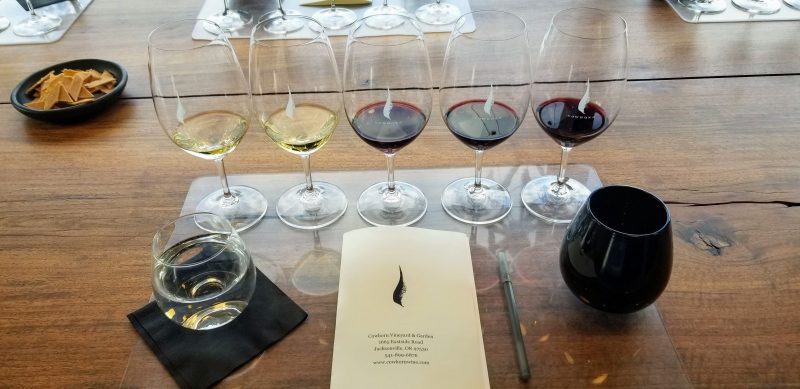 This is a  blend of three white wines grown on estate. Every year the blend is different. Viognier, Marsanne and Roussanne grapes were co-fermented in French oak barrels. 20% new/80% neutral. 3 months. Native yeast.

"I want to be held to a standard not a recipe. We'll do a blending taste. What we're looking for is the expressiveness of the Viognier, then we add Marsanne for mouth feel," Bill said.
Light and lively, this wine opens with delicate aromas of citrus blossom, mango, and pineapple. Tropical fruit notes continue on the palate, leading to a long mineral finish. This wine is ready to be enjoyed all summer long.

Vibrant and acid driven, the 2016 Grenache reaches a new level of boldness. Intense aromas of cherry, blackberry and licorice pour over the glass. Juicy ripe strawberry appears on the palate with a perfect balance of oak on the finish, making this fun red wine perfect for your favorite BBQ fare. Chill slightly for a refreshing zip in the summertime.
The 2015 Sentience offers darker more powerful notes of fruit and earth than its predecessors. Opening aromas of plum sauce and leather fill the nose, leading the way to rich dark fruit of black cherry and black currant. These fruit flavors follow through on the palate and are balanced with savory characteristics of sage, olive and graphite. This full-bodied wine embraces Old World quality but is undoubtedly Cowhorn.

It was such a fun afternoon talking with Bill, tasting wines and talking about biodynamics and sustainability.
To arrange a winetasting at Cowhorn go to: https://cowhornwine.com/#reserve