Walla Walla Washington
Located in the charming, schoolhouse Number 41, built in 1915, in Frenchtown, a small community west of Walla Walla, this 3rd generation family winery was founded in 1983 by Jean and Baker Ferguson. Baker was a Prisoner of War in Germany during WWII, once released he returned to the Bay Area and drank some incredible Premier Cru wines. His family was in the banking industry and were lenders to the agriculture industry- mostly apple growers. He started to realize that the same conditions for growing apples are what is needed for grapes. Warm days and cool evenings.
Now run by Megan (their daughter) and Marty (their son-in-law) Clubb, and their children. Marty is the primary winemaker who studied at MIT and UC Davis. 2020 was their 38th harvest. L'Ecole was the 3rd winery in Walla Walla and now there are 125. Walla Walla originally had less than 100 acres of vines, today they have 3,000 acres of planted vines and is the 2nd largest wine growing region in Washington. The entire state has 50,000 acres of grapes planted.
Terroir
Terroir really is the leading indicator of the wines from this region. Freezing cold winters used to be a problem however today global warming has befriended them. The temperature averages 10-15 degrees warmer. They still get snow but the weather is not as harsh as it used to be.
The geography is fascinating in the Columbia Basin. I don't really understand it all, but there is talk of it having two miles thick of lava, it being heatsink with the weight so heavy that it is sinking the mantle of the earth. It looks like a meteor hit the earth and sank the platelet of the earth. The soil is loess- which according to Google "Loess soils are among the most fertile in the world, principally because the abundance of silt particles ensures a good supply of plant-available water, good soil aeration, extensive penetration by plant roots, and easy cultivation and seedbed production."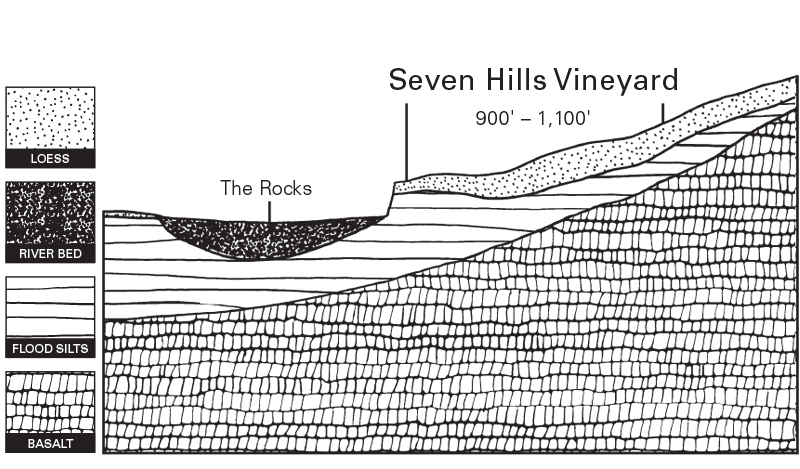 If you look at the picture of 7 Hills Vineyard you can see just how different it is than other greener vineyards. With this soil brings very unique wines. Wine and Spirit Magazine awarded it in the top 10 vineyards in the world fifteen times.
Semillon

Commonly referred to as "Sunshine in a bottle", one of L'Ecole's well-known and loved wines is their Semillon. It is actually 88% Semillon and 12% Sauvignon Blanc. People are very passionate about this wine. The happiness of the aromas coupled with the buttery mouthfeel and the fresh, succulent and flavorful finish bring joy to drinkers. There are hints of lanolin, orange peel, orange blossom. Commonly referred to as "Lip smacking good" by the locals.
Merlot
Yes, I know that Merlot got a bad name 20 years ago. But it was not deserved and should be ignored. The Merlot from L'Ecole has explosive aromatics, with flavors of cherry and cedar. The tannin structure is earthy, dusty, chalky, silky, velvety. This wine is a rich and vibrant wine, not a wimpy wine at all!
Syrah
I'm a Syrah gal! I freely admit it.
According to the winemaker "Washington's climate and soil is ideally suited to maximize the varietal characteristics of Syrah. The Syrah's have an old-world characteristic with earth and spice in combination with the new world profile of bold and expressive fruit."
I found this to be true. This beautifully dark-colored wine is more of an earthy Syrah than a fruity wine. The tasting notes say "bold and concentrated Syrah exudes balance, with aromas of baking spices, green olive and garrigue herbs. The palate has flavors of white pepper and smoked game, adorned with juicy plum with exotic floral essences and ripe black fruit.
I mean really! When have you heard of Syrah tasting like this? I never have. It was lip-smacking good!