The Wine Review Council met to taste and review some very unique wines (to us Californians who are used to vitis vinifera- European wine grape varieties). Some universities in Middle America work diligently at hybridizing grapes to create cold hardy grapes, this is grapes that survive the diverse weather conditions of the Midwest.
See my article on Cold Hardy Grapes published in Grapevine Magazine:
2017 Augusta Winery Traminette ($12.00)
In 1965 the University of Illinois bred a grape that is a cross between a Gewurztraminer and Joannes Seyve 23.416. They call it Traminette. According to their data the wines are floral and spicy and can be made in both a dry or off-dry style.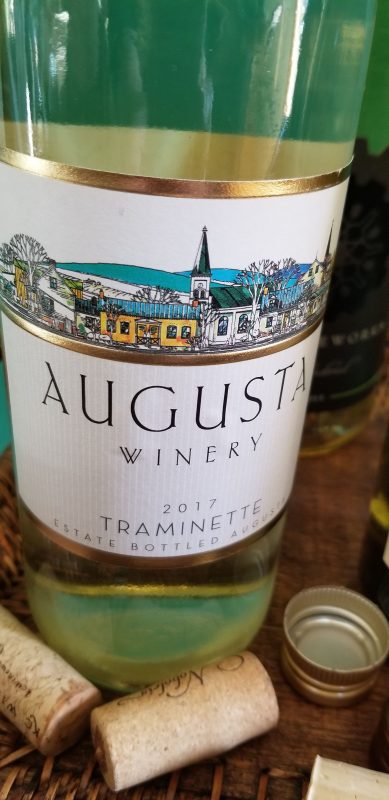 This Traminette turned out to be my favorite wine of the afternoon. It is extremely light yellow in color with a tropical nose. The taste was very similar to a Gewurztraminer but with more tropical flavors. It had depth and layers of flavor. It had nice minerality and good acidity. I must say I was expecting a sweet wine, but it really wasn't. It was very drinkable.
We paired this wine with a chicken salad served on an endive leaf. The pairing was perfect. Oddly enough the tasting notes for this wine recommend "rose, lychee and vanilla cupcakes or root vegetables and squashes". Two different and distinct food types and flavors.
This wine is extremely affordable, retailing at $12.00. I have read that it makes a nice ice wine and I would love to try it.
2015 Chardonel, KC Wineworks ($19.00)
Chardonel is a cross between Seyval and Chardonnay and was created by the New York Agricultural Experiment Station. It was designed to resist both cold and diseases that plague Chardonnay. It was propagated in 1960 and released in 1990. KC Wineworks, the first grape-to-glass winery in Kansas City, supplied us with this wine.
100% fermented in stainless steel tanks, the palate I likened to a boosted Sauvignon Blanc, but somewhat sweeter. It is a straw yellow color with an apple nose.
I have read that it's showing potential to make a great sparkling wine due to its high natural acidity and crisp, green-apple flavors. I'll be the first in line to try it if anyone makes it.
Our pairing for this one was not a hit. We thought it would be good with a honey goat cheese and pear puff pastry, but it was too sweet. We found that we liked the chicken salad better. This wine could actually work well with fish and light pasta too.
2017 Dry Vignoles, St. James Winery ($18.00)
St. James Winery, located in the Meramac Highlands Wine Country in the Ozark Mountains, has a great history and is leading the resurgence of what used to be the 2nd largest wine region outside of California. They're winning awards with their wines and putting Missouri on the wine map again.
According to Wikipedia it was thought that this grape was a hybrid of Seibel 6905 and a clone of Pinot Noir known as Pinot de Corton. But recent genetic testing has disputed this. So, the jury is out on its history. You will find this grape also in the Finger Lakes region of New York, as well as other midwestern states.
This light-yellow colored wine has a nose of apple and flavors of melons, peach and pineapple. It had a crisp feel in my mouth with excellent acid. The flavors lingered in my mouth for a long time.
This wine paired nicely with a shrimp ceviche.
2018 Dry Vignoles, Nobeleis Vineyards ($20.00)
We were all expecting this wine to taste like the previous Dry Vignoles and were surprised that it was very different. A different year's harvest reflects different flavors. The big thing that the group noticed about this wine is that it had a grassy nose and reminded us of a freshly mown lawn in the Midwest! The wine had nice acidity and finish.
This wine paired perfectly with a creamy Mac and Cheese.
From here we branched out into the red wine world with a Stone Hill Winery, 2015 Chambourcin ($13.00)
Chambourcin grapes were released in 1963 and are grown mostly in the Midwest. This French-American hybrid is a "teinturier" grape meaning it has red-tinged juice as opposed to most grapes that have clear colored juice.
Visually the wine is dark red, but flavor-wise it's a lighter red wine similar to a Pinot Noir. The nose has the aromatics of berries. The tannins are soft and we tasted mulberry.
For myself, the wine lacked depth even though it was aged in oak barrels.
This wine paired perfectly with hamburger sliders.
2016 Norton, Augusta Winery ($14.00)
Believed to be America's oldest grape, its origins go back to Thomas Jefferson and his effort to cultivate grapes in the Virginia wine country. Dr. Daniel Norton experimented with many grapes until his discovery of what is now called the Norton grape. What everyone liked about it was the ability to create wines similar in flavor and aroma to European wines. In 1830 the grape showed up in Missouri, which was the closest thing to current-day Napa Valley. The grape is strong and can survive in harsh and cold conditions and is virtually impervious to disease.
It's been grown since 1989 thanks to Dennis Horton, who planted it in Virginia and spread to Missouri.
Augusta Winery grows this grape and makes it into a dry wine and ages it in Missouri oak barrels. The winery's tasting notes say the taste is "rich with berry fruit, jam, cassis and hints of chocolate".
This wine paired nicely with a dill-encrusted Brie and a nutty cheddar cheese.
All-in-all we liked the white wines and felt that the reds were not to our palate. We felt they lacked depth. In all fairness, we all have a California palate and are used to big and bold red wines.