Recently my Wine Review Council gathered to learn about their wines. We enjoyed three wineries of New Mexico.
Vivác (Vee Vok) in Spanish means "high-altitude refuge" and Vivác Winery is exactly that, sitting at 6,000 ft above sea level in the mountains of Taos, New Mexico. Surrounded by apple orchards this lovely winery is the original family farm where brothers Jesse and Chris Padberg were born. Today the winery and vineyards is a partnership between the brothers and their wives. Jesse,the main winemaker, gained his passion by studying in Chile, tasting wines in his free time, and later backpacking in Europe where he found his calling.

Vivác Winery has been striving for excellence for 20 years. Like all winemakers they feel that great wines come from great vineyards. They have created three different organic estate vineyards farmed to test different microclimates, trellising systems and root stock. They have found a variety of cold climate grapes that excel in their mountain top.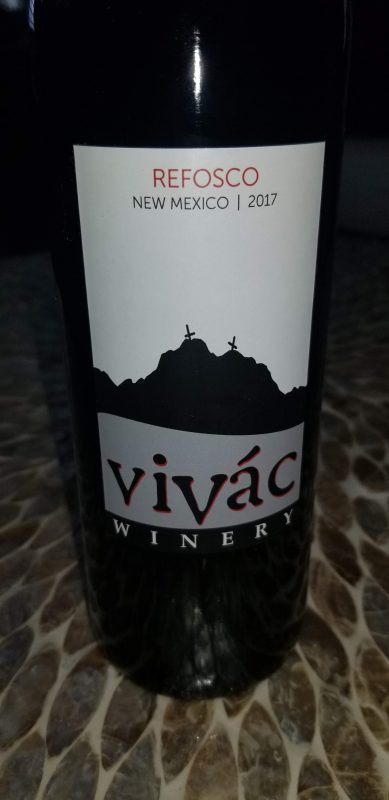 2017 Refosco

The grape is widely grown in the cooler climates of Slovenia and Croatia as well as Trieste in northern Italy, and can be known as Refosk or Refosco d'Istria. Known for its impressive fruit intensity, laced with minerality and tart acidity. It boasts flavors of dark peppery spices and plums. It is often astringent. It is a late ripener, if harvested too early it can produce harsh, unripe tannins. This grape has been reborn at the University of California's Jackson experimental vineyard in Amador County, California.

Today, our tasting of this red wine, although categorized as bold, I felt it lighter than what I consider a bold wine. It is a great wine for new red wine drinkers. It's distinctive flavor is fruity and has aromas of ripe, dark betties, baking herbs and sweet spices. This red wine was aged in French oak for 18 months.

This wine was paired perfectly with open-faced boar, beef and bacon sliders. For $24.00 this wine is a steal.

2017 Nebbiolo

This wine won the favorite red wine of the day. It also won a gold medal at the Fingerlakes Wine Competition. I found it very similar to the Pinot's coming out of Oregon. It is medium-bodied with berries and citrus peel flavors. Aged in French oak barrels, the tannins were soft. This wine was very approachable and priced at $32.00. We paired this wine with Turkey Kabobs with tzatziki.

Heading south to Deming, New Mexico, a few miles north of the Mexican border, we find the resurrected wine region of the Mimbres Valley AVA. After Prohibition when a small amount of grapes were grown the Río Grande River suffered extensive flood destroying vineyards in New Mexico.

Luna Rossa, translated to Red Moon was founded in 2001 by Paolo and Sylvia D'Andrea. Paolo hails from the Friuli region in northern Italy and brought with him a heritage of four generations of winemaking. He emigrated to the US when he was hired to teach Hispanic laborers how to prune the vineyard for a large company in New Mexico. He loved the area and decided to stay and take on the challenge of a new wine industry in a desert. Today, seven years later, all of his wines are 100% New Mexico grapes grown in his vineyards.

2017 Luna Rossa Pinot Grigio

This light yellow wine has floral and herbal fragrances with a Honeycrisp apple and honeydew melon flavor. This wine is lighter than I enjoy, but perfect for enjoying on a Sunday on the patio. Priced at $14.00 it was a Double Gold winner at the prestigious San Francisco International Wine Competiton.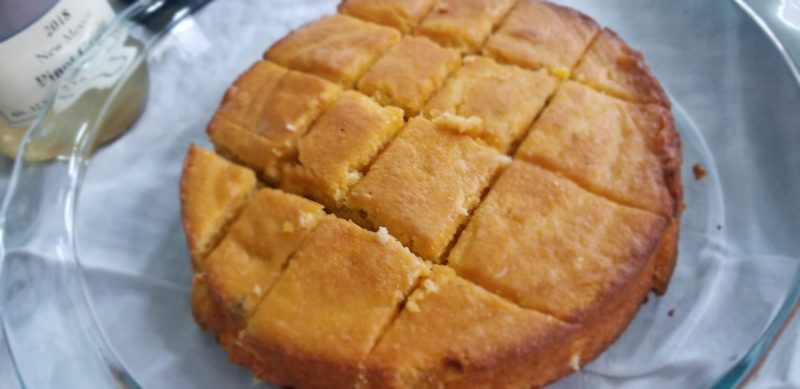 We all laughed because this paired so nicely with cornbread with jalapeño peppers. Not your usual wine pairing. This is what I love about these tastings- we're able to try unfamiliar wines and experiment with pairings.
2015 Luna Rossa Nini

This wine is a blend of seven Italian grape varietals; Dolcetto, Nebbiolo, Barbera, Sangiovese, Refosco and Montepulciano. It spent 42 months in the barrel.

Retailing at $24.00, this wine is BIG and definitely needs at least a half hour to open up before you taste it. It is a dark brownish-red with flavors of tart cherry. Due to the variety of grapes in this blend it can handle many different types of food, we paired it with a dish of orzo with beef, mushrooms and cheese. Actually we loved it with a lot of different meat dishes that were on the table.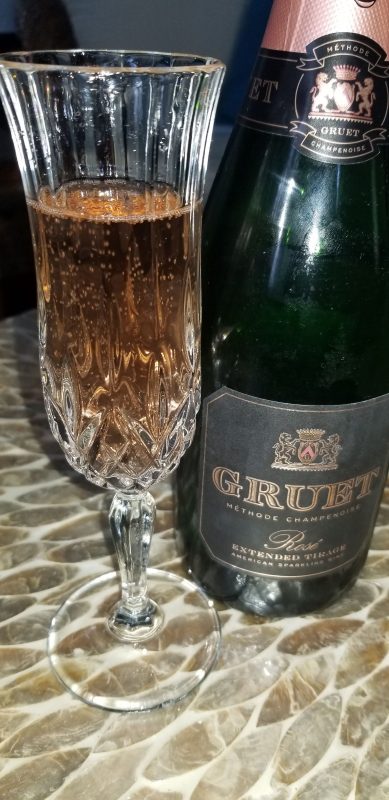 Our New Mexico tasting ended with a Sparkling Pinot Meunier Brut.

The Gruet family emigrated to southwestern USA in 1983. They met a group of European winemakers who had successfully planted vineyards 170 miles south of Albuquerque. Intrigued, they knew they had found the area they were looking for to enhance their Champagne house (Gruet et Fils) in Bethon France. Originally they planted Chardonnay and Pinot Noir grapes and eventually included Pinot Meunier to their mix. Pinot Meunier is a typical grape used to make sparkling wine. Priced at $42.00 this wine is well worth it.

As we sipped this sparkling wine we marveled at the nose of berries, figs and honeysuckle and the flavors of raspberries, wild honey and apricot. The ending was the typical minerality of the grape with a delightfully long finish.

This beauty was perfectly paired with a Chez Panisse Almond Tart.

I was pleasantly surprised at the complexity and richness of these New Mexican wines. I had visited the wine country in Albuquerque a few years back, and now I'm going to have to return to the state and dig deeper into the region. I can't wait to meet these unique people who dare to start and/or revitalize a new industry in- until now- unlikely areas.