(Chef Pascal Olhats graciously hosted this luncheon for a group of writers belonging to the International Food, Wine and Travel Writers Association.)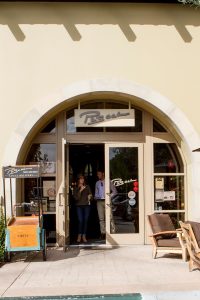 When I texted my friend who lives in San Juan Capistrano immediately after a fabulous luncheon I had attend at Pascals Restaurant, I told her that she MUST try this restaurant. I mentioned that Chef Pascal Olhats is  French and a classically trained chef, my phone pinged within a minute with her reply.
"BIN! I am a foodie like you! Not only have I eaten at Pascal's in San  Juan, I have eaten at his other
restaurants in Newport Beach and Corona Del Mar (some of which don't' even exist anymore)
Plus I met him personally at a charity event I did in February two years ago."
So, I guess I'm the one who's late to the party!!
Chef Pascal Olhats moved to Orange County over 40 years ago from St. Tropez, France. He says of his French culinary heritage that he was one of the first chefs to bring the clean, olive oil-centric cooking of Southern France to Orange County. He said that he made macarons 20 years ago- long before they became popular here in the USA.
He worked in many kitchens including Le Meridien Hotel in Newport Beach and The Piret's at South Coast Plaza and Chanteclair in Irvine, before starting his first restaurant Tradition in 1988.
Many things have happened in his long career and today he owns Pascal's Restaurant located at 31451 Rancho Viejo Rd #103, San Juan Capistrano, CA. The restaurant is a bakery, deli/bistro during the day and a sit-down restaurant 3 nights a week (Thursday, Friday and Saturday) with a prix fixe dinner menu. With French décor and accents including linens and fresh roses, he transports guests to southern France.
Chef Pascal supports a local family-owned farm, Manassero Farms, located near Irvine Valley College where he visits a couple of times a week to pick produce for the day's menu. The fresh vegetables and fruits were very evident in our meal.
Today's menu:
Appetizers: petite onion tart and pesto tomato tartelettes. An assortment of housemade pistachio country pate and pork rillette, duck saucisson with housemade mustard and pickles from local cucumbers.
Salad course: Salade Lyonnaise, a classic French Salad with Butter Lettuce, Frisee, Smoked Bacon Lardons & a poached egg with Dijon Mustard Dressing. (I can't recall the last time I had a poached egg on a salad. Absolutely terrific.)
Main course: Chef Pascal's Specialty Chilean Seabass with Thyme Crust, Seafood Chardonnay Sauce, sitting on a bed of Tomato Concasse.
Dessert: "Macanese" egg tart with berry compote. (Chef brought back and adapted from his travels to Macau)
Today's wines served:
2015 Vin De Bourgogne, Macon – Vinzelles, Appellation Macon-Vinzelles Controlee
2015 Dellas Freres Les Launes, Crozes-Hermitage (Syrah), Appellation Crozes-Hermitage Controlee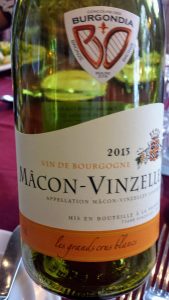 For details of Pascal's Restaurant  go to: http://pascalrestaurants.com/
31451 Rancho Viejo Rd #103, San Juan Capistrano, CA 92675 (just north of Ortega Highway and East of the 5 Freeway)
Phone: (949) 488-0031 
Author: Robin Dohrn-Simpson