Stokes' Ghost Petite Sirah, 2016, $34.00
I LOVE this story! "Trust me, I'm a doctor."
From their website: https://www.stokesghostwines.com/
In 1833, British sailor James Stokes jumped ship in Monterey with a booty of stolen medicine. He opened a downtown pharmacy and launched a thriving medical practice as "Dr. Stokes". Despite a knack for killing his patients, he landed a commission as the personal physician to California Governor Jose Figueroa. Within a year, the governor was dead.
The phony physician was astonishingly successful for someone so poor at his job. He grew wealthy, married the widow of one of his patients, and served as mayor of Monterey. Eventually, the gig was up. According to legend, Stokes' sons confronted him of his devious deeds and he ingested poison, falling lifeless at their feet. His former home still stands and to this day, is haunted by the ghostly figure of a man dressed in 1800s garb. This is the legend of Stokes' Ghost.
The grapes for this Monterey County are grown inland in an area considered a "Goldilocks region- not too hot, not too cold, but ideal for growing Petite Sirah".
This wine is inky, with the classic dark blackberry on the nose. The tannins are strong and I felt like I could chew this wine! It needs a few years to age.
This wine was paired with an Italian Sausage Lasagne and could totally hold it's own.
Stanton Vineyards, Petite Sirah, 2017 $45.00
Saint Helena CA was a victim of the vicious 2017 wildfires. Many wineries were unable to pick their grapes ahead of the fire, however Stanton Vineyards was fortunate enough to have picked their Petite Sirah before the fires ravaged the area. Luckily there is no smoke taint on this wine.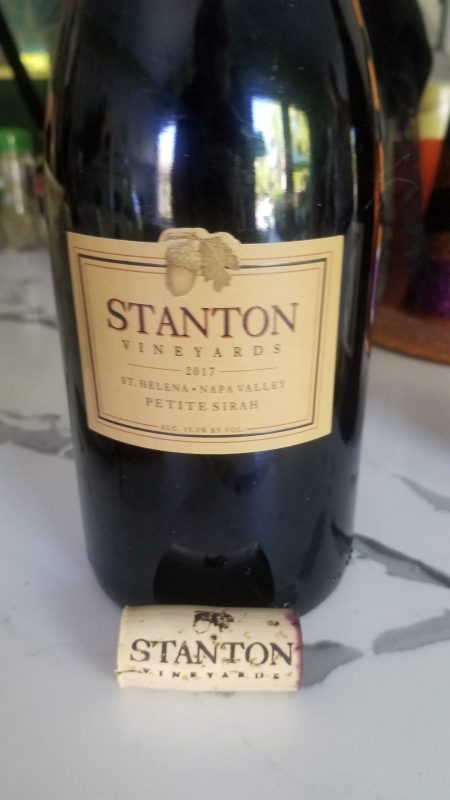 This wine is dark and full-bodied with flavors of blackberries, cola and black pepper. I picked up flavors of bacon in the nose- maybe that's why I like the food pairing so much. The tannins are smooth making the wine very drinkable. I found this wine delicious and could have just drank it without food- sitting on the patio!
This big wine was paired with a Smokey Meat Corn Chowder.
Varozza Vineyards, Petite Sirah, 2015, $50.00
"Petite Sirah is as unique as it is expressive", says winemaker Kirsty Melton. This is so true. With all the wines sent to me from PS I Love You, I can say that each wine has had its own distinct flavor.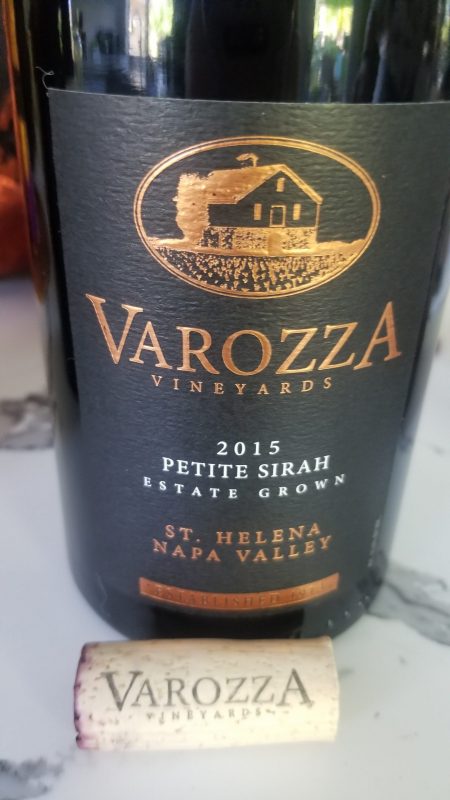 This grape was grown in Napa Valley. The wine has aromas of chocolate truffle, toasted hazelnut, forest floor (yes- that's a descriptor) and boysenberry. The palate is complex with Allspice, black peppercorn and lingonberry jam! This is a b-i-g wine with strong tannins and immense flavors.
We paired it with spicy Morrocan meatballs. It was a perfect pairing. This wine can hold up to Middle Eastern spices.