Ashland, Oregon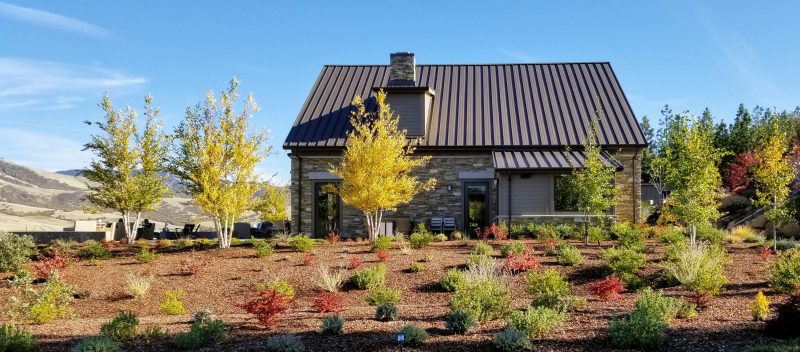 Ashland Oregon is located in southern Oregon, relatively close to the California border. It's famous for being the home of the Oregon Shakespeare Festival (which oddly enough doesn't only feature Shakespeare plays, but showcases many other writers' work).
I visited this winery with a group of wine writers in October and had the pleasure of tasting a variety of their wines.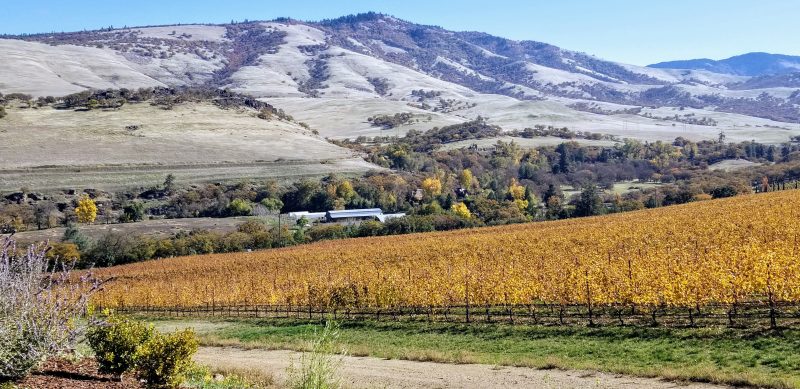 Co-owners Doug and Dionne Irvine first discovered Gaja Nebbiolo wine while traveling in Italy and got the wine bug. They had property outside of Ashland and Doug was getting out of the construction business, so "we figured we'd try some Tempranillo, Pinot and Chardonnay besides the Nebbiolo," Doug said. "I was told day one by a consultant that Nebbiolo wouldn't work. Yep, you watch, I thought. So, I planted it. After four vintages, it never worked. We got one crop one year, about 20 cases. We made it and of course, it was the worst wine you've ever tasted. We never labeled it, never released it."
"After a few years we were making about 200 cases of Pinot Noir and Chardonnay for local distribution. We couldn't keep up with it," Doug said. "In 2012 we decided to expand to the 26 acres next door. We discovered Pinot Noir, Pinot Meunier and Chardonnay just shine. We had a hard time keeping up with demand."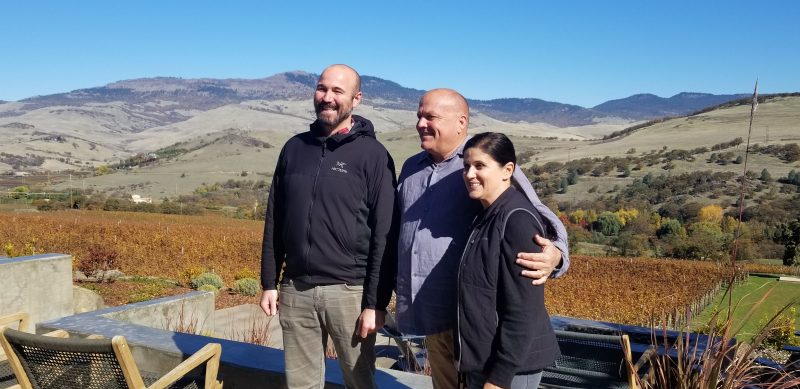 2017 brought a new winemaker, Vince Vidrine. He has an impressive resumé starting with studying Oenology at Oregon State University Corvallis. Originally from Washington State, he started home brewing and home winemaking, changed his major and became obsessed. "I thought, maybe I should go to UC Davis because that's where everyone tells you to go, but ultimately I decided I wanted to be in Oregon. I wanted to understand the place as part of that education. I worked harvest in other places, including Napa, Burgundy, New Zealand, Australia but always came back. I worked on vineyard projects and ended up working as an Assistant Winemaker for Robert Brittan, a Napa winemaker who moved to Oregon and also worked as an assistant winemaker at Domaine Serene for a couple of years," he said.
Vince met Doug and Dionne without knowing about Ashland. "I showed up in spring when the wildflowers were blooming on the hills and there were rainbows and felt I is was a sign," he laughed. "I looked around and tasted the fruit and could see that there was huge potential."
Irvine and Roberts Winery is in the intersection of the Cascade and Siskiyou mountain ranges. The geology of this area is fascinating and the end result is amazing wines. "Our growing season is shorter due to the Siskiyou Pass and the cool wind coming through the pass from the north. The soils here are alluvial sandstone pushed up by a granite intrusion. When the Siskiyou's slammed into the North American plate eventually there was lava flows and granite flows. River flow deposits. Neat mixture of soil, high drainage with decent water holding capacity. It makes for a really nice balance. Lots of fruit expression from the soil and the winds. Our operating philosophy is that we try to show our site and make wines that show the fruit potential."
The wines we tasted are from 2017 which is the first year that Vince came on board and he took everything from farming to winemaking.
2017 Estate Chardonnay $32.00
This wine is whole cluster pressed, fermented in barrel and aged in 20-35% new oak. "One of the best things I've heard recently is the oak is the stage- not the play," Vince said.
This wine is made from, the six different clones of estate Chardonnay grapes that are picked at different times depending on ripeness. This gives the wine different expressions. This excellent wine is vibrant with citrus and stone fruit.
2017 Pinot Meunier $40.00
"I love working with this grape. It's its own varietal however a descendant of Pinot Noir. Mostly you'll find this in a sparkling wine. The first mention of it is in the 1600's in Champagne, France, where it's the most planted variety," Vince said.
My thoughts on this wine are that it has a great mouth-feel (viscosity). You can pick up earth tones, raspberries and strawberries, and savory notes. It's a unique, fun, different, and delicious wine.
2016 Estate Pinot Noir
This wine is all the seven clones of Pinot Noir on their property.
19 acres of Pinot Noir and 4 more acres next door, 2/3 of what we have planted right now.
Wadesville Pinot Noir
This grape is a clonal varietal first propagated in Wadesville, Switzerland at the university that has an agricultural department in the mid 20th century.
"I find this grape fascinating. It is a big wine with a determined focus on the palate," Vince said. "Pre-climate change it had tannins in the back of the palate. This is clean, bright, and earnest. I dig the complexity of this wine, it ends up being a unique style."
2017– 777 Block Pinot Noir
777 is one of the most popular clones of Pinot Noir. "We find year in and year out that it's round with luscious edges, pure fruit characteristics," Vince said. (Full disclosure- I bought a lot of this beautiful wine!)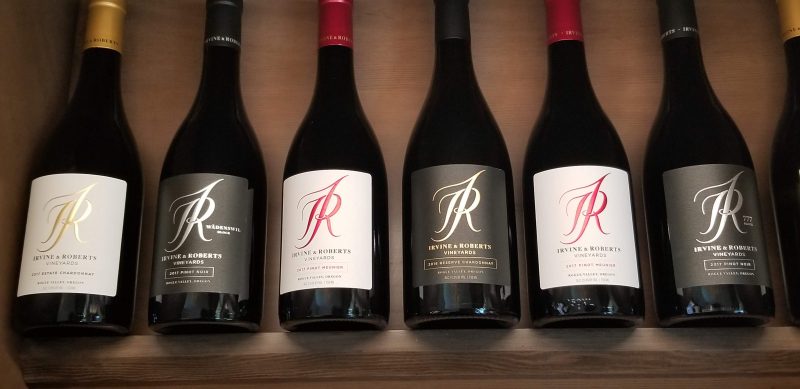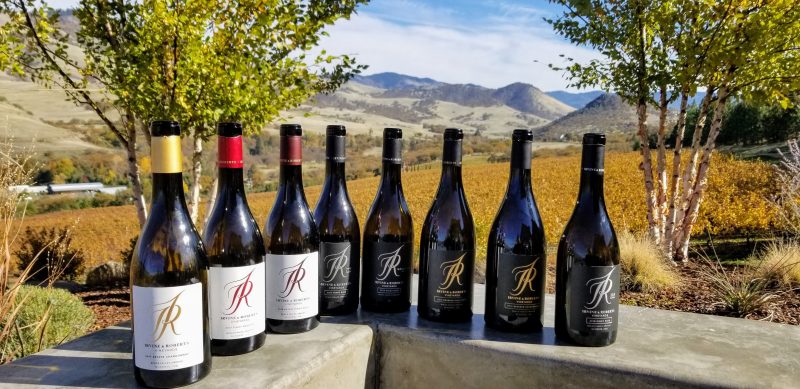 I was so happy to see Irvine and Roberts Winery on the list of Silver Medal winners for the prestigious 2019 Sunset International Wine Competition. Three wines won silver medals: 2018 Rosé of Pinot Noir, 2016 Reserve Pinot Noir and their 2016 Estate Chardonnay.
Now that I've met the key players in this winery, I can totally understand why they won three awards. Hopefully next year they'll be Gold!!