I love to host events in our backyard in the summer when then the garden is in full bloom and the swimming pool is warm and inviting. The Wine Review Council gathered with 5 writers, 2 photographers and 2 consumer advocates.
Mt Beautiful Winery from the South Island of New Zealand hosted us with a 2017 Pinot Gris from North Canterbury Region, just south of Christchurch, which according to their website "spans nearly 200 kilometers from the South Island's eastern coastline, with the magnificent Alps to the west and the Pacific Ocean to the east". They boast a cool, dry climate with high sunshine and a long growing season. Cooler climate grapes grow here: Pinot Noir, Chardonnay, Riesling, Gewurztraminer and Pinot Gris. Pinot Gris is New Zealand's third favorite white wine variety.
I'm only now learning about New Zealand's wines and was excited to try this Pinot Gris. It is a light straw color. The flavor was an explosion of peach, pear and apple. Priced very affordably at $10-15.00. We paired this a shrimp ceviche.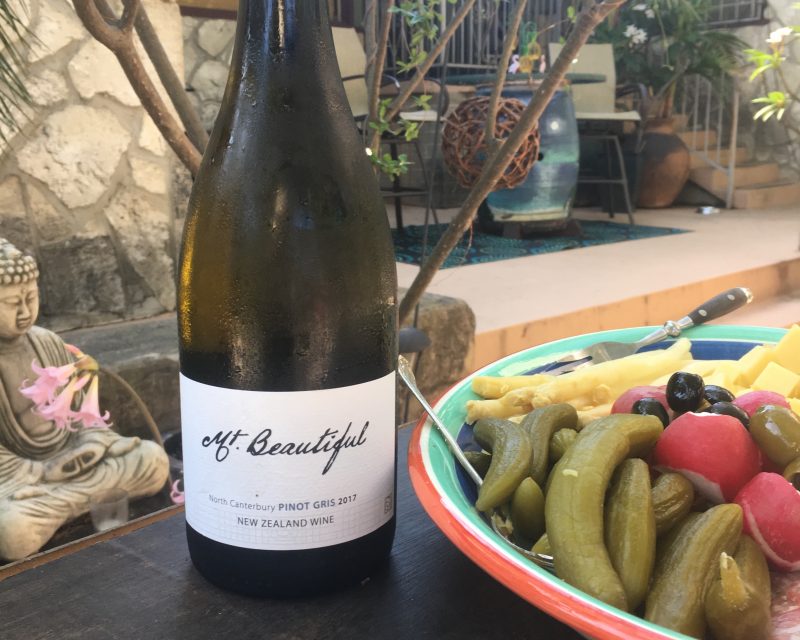 Next up was a Cameron Hughes Rosé of Valdiguié. What is that? That's exactly what I said. I looked it up and read that it has been mistakenly called Napa Gamay for many years. It used to be widely planted in California but now there are only 300 acres planted in the entire state. The wine was from Arroyo Seco in Monterey County. Made in a French style, this coral-hued wine had a strawberry nose and a sweet flavoring of strawberry, apple skin and wet stone. The finish was stony and sweet! What a unique wine. I very much enjoyed this wine. And the price point is great at $13.00. This wine was paired with crab stuffed mushrooms. But since I don't like either, I had to rely on my companions telling me that it paired nicely. They liked the saltiness of the seafood and the earthiness of the mushrooms. Everyone in the group loved this wine.
We returned to New Zealand with the 2018 Mt. Beautiful Rosé, a blend of 65% Pinot Noir and 35% Pinot Gris. With a short amount of time with skin contact this wine is pressed off and co-fermented in tank and barrel. The result is a salmon-colored wine, fragrant with berry flavors: raspberry, strawberry and a crisp refreshing finish. This paired with a selection of cheeses. Mt. Beautiful says that this wine would also pair nicely with salmon or a Thai Beef Salad. I tend to like rosés just by themselves.
Our last three pairings were a side-by-side tasting of 2014, 2015 and 2016 Talawind Pinot Noirs from Talawind Ranch in the Russian River area of Northern California. I honestly didn't see a large difference from each year and that's because of winemaker Patrick Melley's 20-year experience in making Russian River Valle Pinot Nor wines and his philosophy of showcasing the nuances of the region's terroir, soils microclimates and clonal selections. Patrick says he minimally handles wine from his vines. He lets the wine lead the direction it wants to go. Let go and let the fruit develop its own personality. Priced at $30.00 these wines will not disappoint.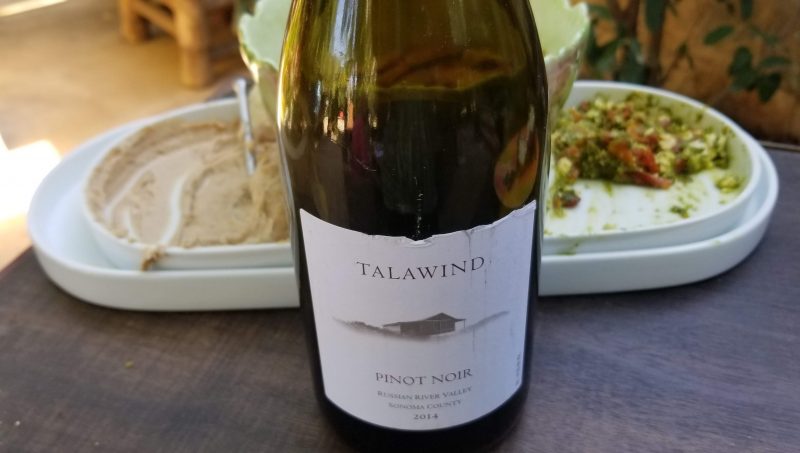 2014 Talawind Ranch Pinot Noir
The winemaker notes say it all: "a beautiful marriage of fruit and spice aromas". The red and black cherry flavors seguing into plum and boysenberry. Spices such as mace and cardamom give it a unique flavor. I noticed the silkiness of the wine as it went down my throat. This wine was paired with a creamy hummus and fresh tabbouleh.
2015 Talawind Ranch Pinot Noir
This year's aromas include cola, spices and rose petals. The fruit flavors of cherries and red berries. It is a medium-bodied wine than the previous years. It was aged in French oak barrels and that flavor came through nicely. The food paired with this wine was a grilled nectarine stuffed with ricotta. Yum!
2016 Talawind Ranch Pinot Noir
Pinot Noir is typically described as earthy with flavors of "forest floor". As crazy as that sounds, it's very true. Once you get those words to describe the wine, you can really taste it. This wine has the forest floor as a predominant descriptor. Dark red with cola and sassafras flavors, due to the grapes being from their Pommard clone, it was aged in French oak barrels and that flavor came through nicely. Another score on the food pairing was a flatbread loaded with blue cheese, pears and prosciutto.
All of today's wines were tasty. Many times when I taste wine and have to take into account the sights, sounds, friendship, music and flavors of the day. Today was one of those days.