A Day at our Baja California Neighbor's, Part 1
It's been years since I went to Tijuana just to be a tourist. Seems like we're always blowing through town to get to the wine country or down to Ensenada. But thanks to Travel Massive I spent a day touring with other travel professionals through some tourist highlights. I parked my car on the US side and walked across the border. That was so easy and saved the pain and suffering of crossing back across the border in a car (which can take hours).
Another reason I haven't been down to Baja much in the past 10 years is due to the random violence that has been prevalent due to the drug cartels. A couple of years back, my husband and I decided that we could die on the freeways here in San Diego or we could die by random gunfire in Mexico. If it's our time, it's our time. So we loaded up our car and headed down to Mexico.
Avenida Revolución
This is the main tourist street where shops and restaurants are located. Boy has this changed since I last came down here. For one, it's now a walking street, part of the time, also it has cleaned up a lot from what I recall 25 years ago.
Arco de Tijuana
The Millennial Arch is a metallic steel arch at the base of Avenida Revolución designed after the arch in St Louis, Missouri. It serves as a symbol of the Zona Centro. It's very cool, but I don't like that there is a television in the middle of it. Just another chance to advertise.
Plaza Santa Cecilia
A block away from the base of the arch is the Plaza Santa Cecilia. This plaza, named after the patron saint of musicians, is a gathering spot for mariachis and other musicians who stroll the Avenida playing favorites to tourists eating in the restaurants. They will ask you if you'd like a song, and if you do, they'll play for you, however, you must pay them a tip at the end of their serenade.
This colorful plaza is filled with arts and crafts stands, restaurants and bars. It's very delightful to stroll down this street.
La Tradición Restaurant
We enjoyed breakfast here and listened to the strolling mariachi bands. Note: I had a drink here with water (that I thought was made from purified water) and ended up getting Montezuma's Revenge the next day. So, you still need to be diligent in making sure what you drink is bottled or purified. Ice is ok, though. They do use purified water to make ice. Maybe someday they'll get their city water purified.
My travel companions had a variety of dishes, but the Molcajete was a highlight. It is a dish with chicken, shrimp, meat, cactus on the side along with avocado, two sides of rice and beans and tortillas, this meal is good for couples to share.
Chilaquiles
Zonkeys
I remember when I came to Tijuana as a child with my family, we saw these zebras on the street, had photos taken with them. We put on sombreros and thought this was the coolest thing. I wonder where those pictures are.
1889 Museum
What fun we had at this museum! The city of Tijuana was founded on July 11, 1889, thus the name. Back in the day, Tijuana was an exotic city to visit. Many Hollywood actors and actresses used to visit the city and the museum has a gallery of photos of some of the famous people enjoying themselves in the city.
A statue of a zonkey and a bench greet you in front of the museum. Don a sombrero and take a picture of yourself or a group.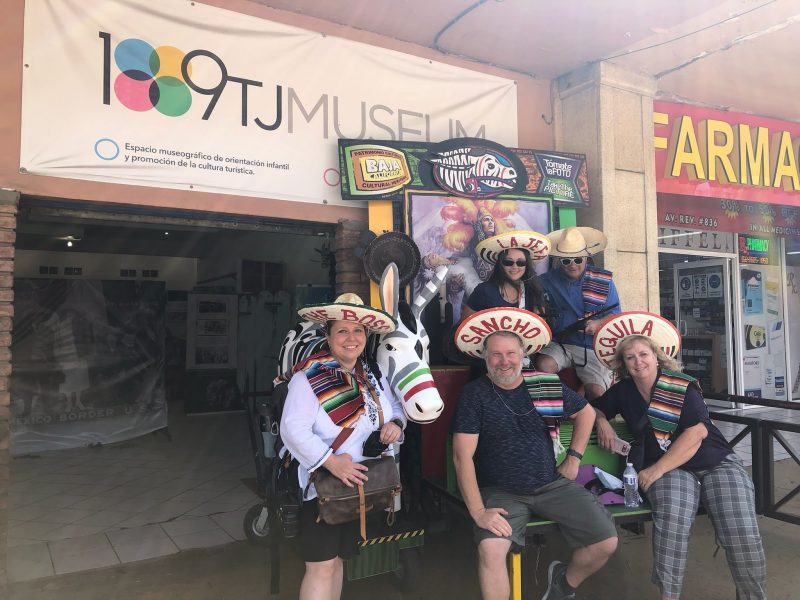 Tijuana used to be spelled Tia Juana. At some point the spelling switched, and the museum has the original jail facade. I remember this from when I was a young un I recall posing in this jail with my sisters. I sure wish I could find it. From the stories that my husband and friends tell about going to TJ during their high school days, they're lucky they didn't end up in the real Tijuana jail.