Tropical Pork Chops with Pineapple and Plantain
The thing to know when working with plantains is that they are NOT sweet. Think potatoes. This is a good way to use those thin cut pork chops.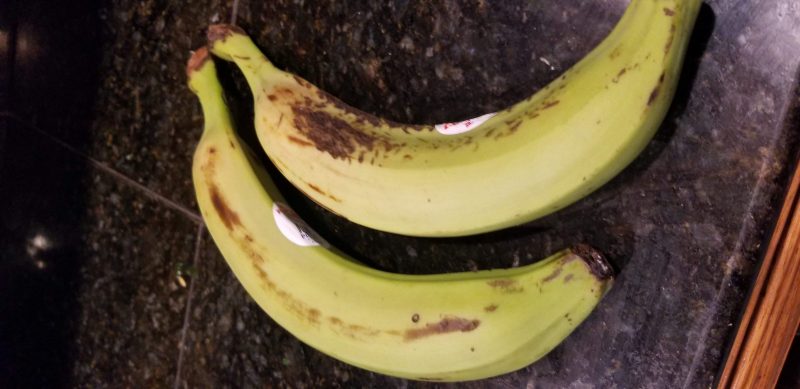 4 pork chops
1 yellow onion, chopped
1 can crushed pineapple
3 or 4 plantains, peeled and copped in 2-3inch pieces
Ginger powder, Allspice, Salt and Pepper

Heat Canola Oil in a large skillet
Add 1 Tbsp Ginger, 3 Tbsp Allspice, 2 Tbsp salt and pepper
Chopped onion

Chop pork into 2-3" pieces, add to skillet immediately and stir fry for about 3 minutes.
Transfer to a large baking dish and palace plantain chunks around the edges, pout pineapple over the plantains and a little of the juice over the pork.
Sprinkle more Allspice, salt and pepper over everything.

Bake @ 300° for 30 minutes.

Kiwano Melon also known as Horned Melon

This unique looking fruit is native to the Kalahari Desert. When fully ripe the fruit tastes like a mix of cucumbers, kiwis and bananas. How do you know when it's ripe? The color turns from yellow to orange. I wish we had known that when we cut this fruit open.
The fruit inside is very unique looking. There are tons of seeds. The yummy part is the liquid in between the fruit. Everything I read was that if you don't like the seeds, try pinching the sac of fruit gently with your front teeth and suck the sac of fruit through your teeth.

Marc made a kiwano coleslaw with the guts of the fruit, a bit of crushed pineapple, cut up cabbage and a dollop of mayonnaise and a splash of white wine vinegar. He garnished it with peanuts- which really made the flavors pop!
"I recommend using the fruit shell for a receptacle for something else, like ceviche," Marc said.

Other uses might be a kiwano salsa. This salsa recipe from Wikihow looks tasty.

Seed one kiwano melon into a bowl and mix it with:
the juice of one lime
a clove of garlic
a palm-full of fresh chopped cilantro
one green onion, or a 1/8 of a white onion
a quarter-teaspoon of cumin
Mix in a small amount of vegetable oil to coat the mixture and use the salsa as a garnish for meat, grilled vegetables, or eat it with chips for some surprising nachos.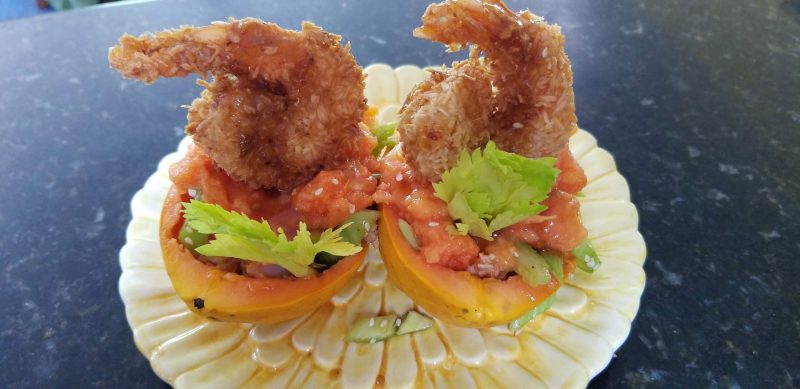 Papaya and Shrimp Salad
2 slightly firm papayas
Shrimp, chopped
Celery, chopped
Store bought Asian Dressing
Chives
Sesame seeds
Lemon

Cut the papaya in half lengthwise and scoop out the seeds. Save the skins to use as bowls.

Mix celery and shrimp with the Asian dressing. (Don't use too much! Light touch is best.) Mix in chopped papaya, and ladle into the papaya halves. Sprinkle with chives, sesame and a squeeze of lemon.

We used leftover coconut shrimp, but you could use any kind of already cooked shrimp.