Jackfruit
The Covid-19 pandemic has sent most of us to quarantine in our homes. Many restaurants were closed to dine-in service. People started cooking in their own kitchens like never before in my lifetime. With everyone cooking from home, items were hard to find at local grocery stores. And that was if you were comfortable enough to venture out to the grocery store.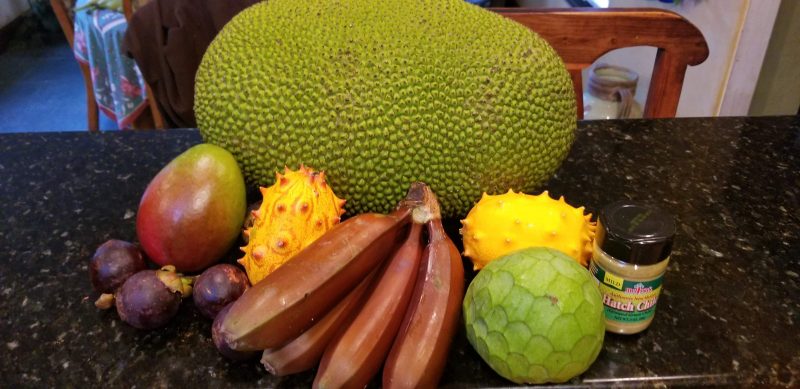 Melissa's Produce in Los Angeles, California, whose motto is "Delivering The Global Market", reached out to a group of writers to experiment with some of their foods. I ordered a box of exotic fruits, just for a challenge for my husband, who is the cook in our family. There were plantains, red bananas, purple bananas, Mangosteen, Papaya, Mango, Cherimoya, Kiwano Melon and Jackfruit.

My writers group and I planned to each try jackfruit recipes. We were unfamiliar with jackfruit, which Wikipedia defines as a species of tree in the fig, mulberry and breadfruit family, originating in Southeast Asia and Malaysia. We read that the taste is quite distinctive, some define it as sweet and some as similar to pulled pork, especially when cooked.

We planned to each try jackfruit recipes. In our research, the popular recipe was Jackfruit Pulled Pork Sandwiches. "Jackfruit is the tofu of fruit, it absorbs the flavor of whatever it's cooked with," said my husband, Marc. "People say that it tastes like pulled pork. It's great for vegetarians." If you purchase a fresh fruit, I recommend that you go on YouTube and watch some videos on how to cut open one. It's not as easy as you imagine.
Marc made a jackfruit taco salad. He cooked the jackfruit, in a fry pan combining with taco seasoning. The texture was good for a meat substitute and a great vegetarian option. You can make whatever kind of salad fixings that you like and put a dollop of the jackfruit on top.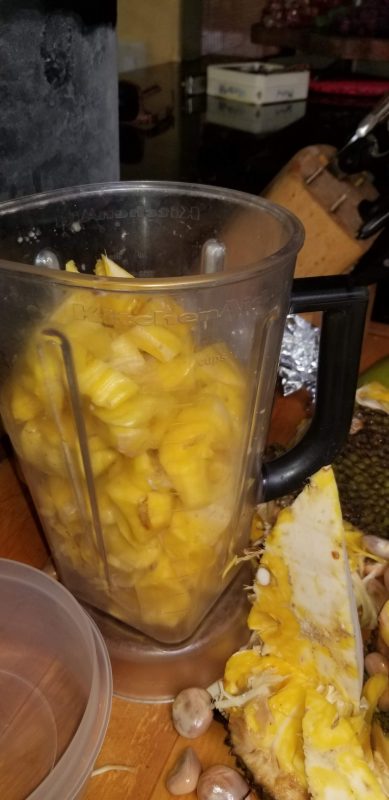 We also tried jackfruit ice cream. Rumor has it that you can make a nice milkshake out of jackfruit, but our first try was extremely mediocre. I didn't care for it. Honestly, I threw it out before I took a picture. But it just looked like vanilla ice cream.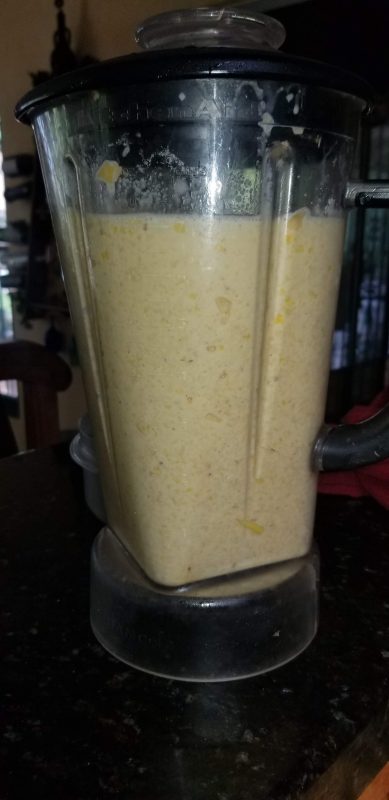 Look at what my colleague Mary Farah did with her jackfruit.
Jackfruit Pulled Pork
Here's how to make Jackfruit Pulled Pork! It's an easy vegetarian alternative, cooked in a homemade BBQ sauce, that's perfect for topping sandwiches and salads. No soy or gluten.
PREP TIME10 minutes
COOK TIME15 minutes
TOTAL TIME25 minutes
SERVINGS4
AUTHORMegan Gilmore
INGREDIENTS
2 (14 oz. cans) green jackfruit , drained
1 tablespoon olive oil
1/2 yellow onion , chopped
1/2 teaspoon chili powder
1/2 teaspoon paprika
1/4 cup tomato paste (no salt added)
1/4 cup apple cider vinegar
1/4 cup maple syrup
1 teaspoon spicy brown mustard
1/4 teaspoon salt
OPTIONAL ADD-INS
pinch of cayenne pepper (for a spicy BBQ sauce)
pinch of smoked paprika (for a smoky BBQ sauce)
1 teaspoon blackstrap molasses (for a richer BBQ sauce)
1 to 2 garlic cloves , minced (saute with onion, if desired)
INSTRUCTIONS
Drain the 2 cans of jackfruit into a large mesh strainer and rinse them under running water. While the jackfruit is still in the strainer, use your fingers to "shred" the jackfruit into strands that resemble shredded meat. Rinse it again to remove any remaining brine, then set aside.
Heat the olive oil in a large skillet over medium-high heat, then sauté the onion until it starts to soften, about 5 minutes. Add in the chili powder and paprika, and saute again for 30 seconds.
Add in the tomato paste, vinegar, maple syrup, mustard, and salt and stir well to combine. You may want to add up to 1/4 cup of water at this point, to help the sauce come together and not stick to the pan.
Add in the jackfruit, and stir well to get every piece coated with the sauce. Stir until heated through, and taste a piece to see if you need to adjust the seasoning. At this point, you can add more salt, extra optional spices for more heat or smoky flavor, or an extra splash of maple syrup if you prefer sweeter barbecue sauce.
Serve the jackfruit pulled pork on a bun with your favorite coleslaw, or over a salad if you prefer. Leftovers can be stored in an airtight container in the fridge for
Recipe Notes:
If you don't want to make your own BBQ sauce, feel free to use a store-bought sauce instead. I would use roughly 1/2 cup of prepared sauce per can of drained jackfruit, but you can add more to taste.
This is the most simplified recipe I could come up with that still tastes like BBQ to me, but feel free to add in any other spices that you love to make the flavor more complex. I use a tiny pinch of smoked paprika and molasses to make it more like the local Kansas City BBQ we know and love.
For a Southern-style sandwich, try topping your Jackfruit Pulled Pork with my creamy Vegan Coleslaw.