Rosé and Prosecco Tasting
Toasting to Spring and Summer
Now that we're coming out of our respective bubbles and getting back to life- it's time to look at some fun summer wines. Did someone say bubbles? Prosecco? How about a few rosés also?
The Wine Review Council gathered to taste and review a plethora of summer wines from France, Italy and Temecula California. It's always fun to pair foods with these wines and see what works with the wines and what doesn't. Sometimes we're spot on and sometimes we're not. Sometimes we find what we thought would go with one wine, actually goes better with another. We have some incredible chefs in the group, but there are no hard feelings if one dish pairs better than another. All is fair in wine!
Coté Mas Rosé Aurore (2020)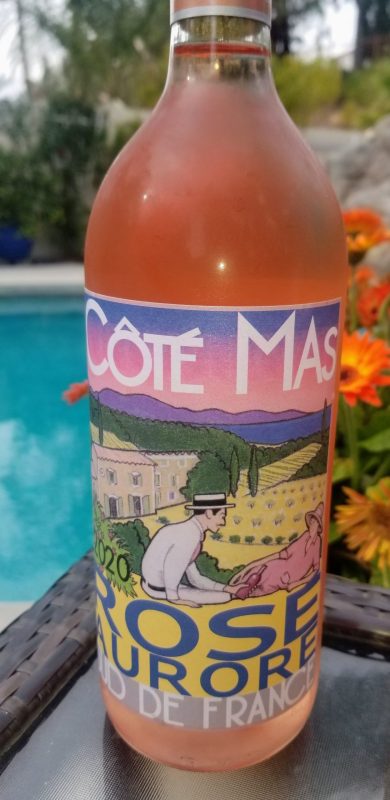 Languedoc France has reinvented itself over the past decades, focusing on high-quality wines, state-of-the-art winemaking techniques and diverse terroir-driven wines. Today the region's red, white, rosé and sparkling wines are highly sought after as new discoveries by wine lovers around the world.
We were able to discover this rosé blend of Grenache, Cinsault, Syrah and Vermentino. The wine is aromatic with cherry, strawberry and floral notes. The palate is rich and smooth with ripe red fruits and well-balanced acidity.
We paired this wine with a Pistou – a super spicy Provençal pesto with pine nuts. I was most shocked by this pairing. It was phenomenal! Who would have thought that a rosé could hold up to such big flavors. Retail price: $13.99.

Planeta Rosé (2020)
Sambuca di Sicilia in the western hills of the Agrigento province is known for tourism, olives and wine. Planeta is one of Sicily's most prominent wineries. Hidden within the Menfi hills this winery is located at 1200 ft above sea level. They grow Nero d'Avola and Syrah and that is what this rose is a 50/50 blend of the two grapes.
It is a delicate, fruit-forward rosé that "represents all the feelings of a Sicilian summer". With aromas of strawberry and tastes of blackberries, peaches and melon. Lively and fresh this wine is perfect for an afternoon. Retail price: $19.99
We paired this with a Guava strudel with cheese (Pastel de Guayaba).
Jean-Luc Colombo Cape Bleue Rosé (2020)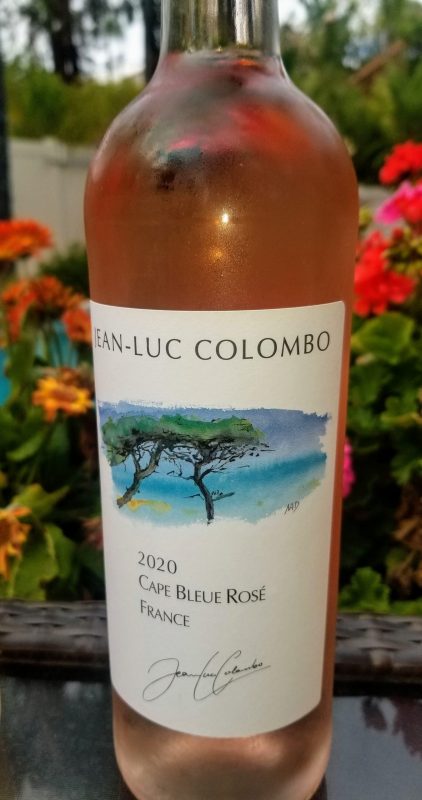 French Legion of Honor (France's highest civilian award) winner Jean-Luc Colombo has a thriving reputation in the wine community throughout France. His innovative approach to winemaking using the "saignée" method, which is undergoing a 10-hour cold soak until the desired color is achieved. Fermentation then lasts 3 weeks in order to preserve the primary aromas. Retail price $14.99.

This wine is 67% Syrah and 33% Mourvèdre. It has aromas of raspberry, watermelon and peach. I thoroughly enjoyed this wine. What's not to love about Provence! It reminded me of being in France and breathing in the French air, driving the hillsides eating French cuisine.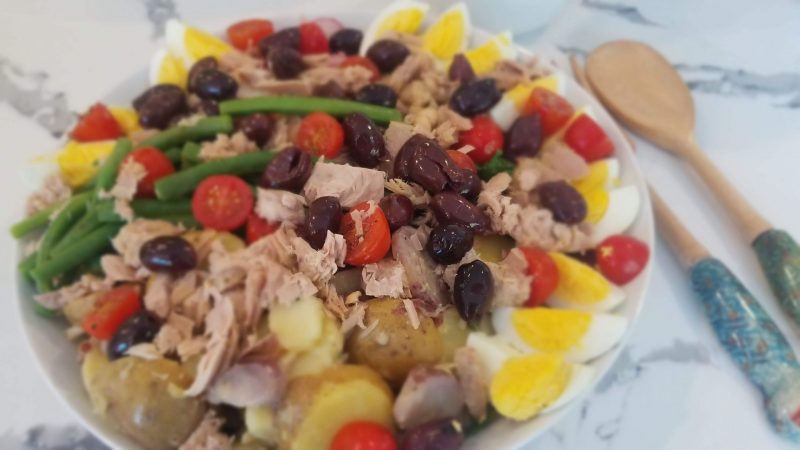 This beautiful Provence rosé paired nicely with a classic tuna salad niçoise loaded with green beans, hard-boiled eggs, potatoes, kalamata olives and drizzled with a vinaigrette dressing.
Bertani Bertarose Rosé (2020)
According to their website "The Bertani Winery was founded in 1857 by the brothers Giovan Battista and Gaetano Bertani, in Quinto di Valpantena, north of Verona. They are located in the famous Valpolicella Classica region of Veneto. Today they have become known for their Amarone wines- grapes are dried and then reconstituted during fermentation.
However, this wine, Bertarose, is one of the oldest wines of the Bertani Winery. It is a Chiaretto rosé using the same grapes as the world-famous and very expensive Amarones. This rosé is a blend of 75% Molinara and 25% Merlot. Molinara is a grape most commonly found in the Veneto region of Italy. It is occasionally blended with Merlot to produce soft elegant rosés. It has Subtle tastes of pomegranates and red currants. It is medium-bodied with a perfect balance between acidity and tanginess. Super light in color Retail price $19.99
We paired this with what I affectionately call "Pasta Marc-onara". Marc's version of pasta carbonara with peas, bacon and parsley in a light cream sauce.
Valdo Marca Oro Prosecco (DOC Rosé Brut) 2019
Valdo in northern Italy is at the foothills of the "pre-alps" around Treviso in the heart of Prosecco DOCG. Prosecco is the distinguishing wine of the region. With refined aromas, balance and overall quality are the key features Valdo focuses on producing unique and unrivaled wines. Valdo strives to maintain a perfect balance of technology, passion, innovation and tradition to guarantee extraordinary quality in every bottle.
We had the opportunity to taste their lovely pink rosé Brut, which is 90% Glera (also known as Prosecco) and 10% Pinot Noir. Retail price $15.99
The nose is floral with apple, pear and red berries. The taste is delicate and fruity.
This paired nicely with a shrimp cocktail.
Lorenzi Malbec Rosé (2020)
We finished with a local Temecula wine from Lorenzi Winery. Don Lorenzi's attention to detail reflects in this delicious bottle of wine. I work really hard on not having a "California palate" however it's very hard since I'm surrounded by California wines. This wine is very California. It was bigger and bolder than the French and Italian rosés Retail price $45.00
Wine connoisseur, Patrick Bartlett, describes this rosé as "A beautiful deep pink color is highlighted by aromas that burst with the fresh fruit flavors of strawberry, pineapple and grapefruit. It starts out as a fruit bomb but finishes dry with long, lingering notes of dried fruit and spices."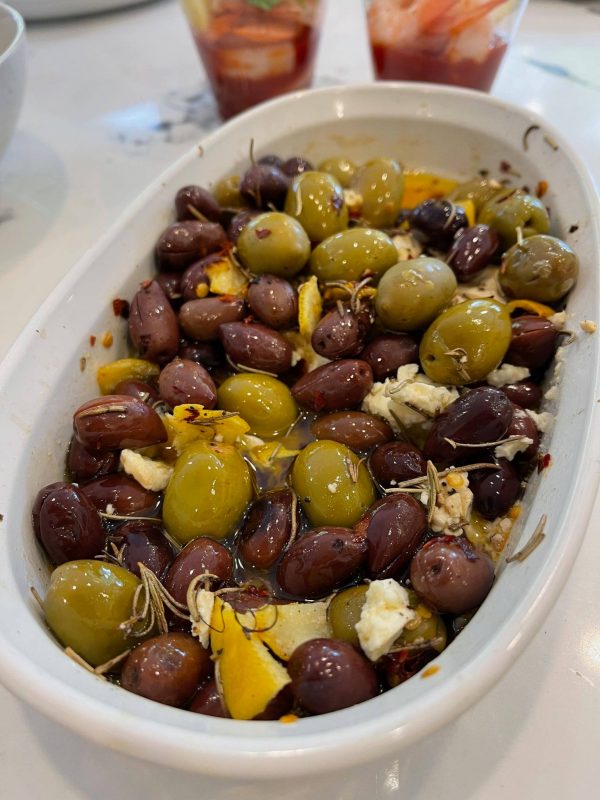 Baked Feta with Sautéed Olives. This savory treat enhanced the fruity wine flavors so nicely.