After a reprieve due to the global pandemic, the 17th Annual San Diego Bay Wine + Food Festival is returning. The 4-day festival offers a variety of events for food and wine enthusiasts. Build your own wine adventure from:
The Grand Decant
Friday November 12, 6:00-9:00pm
The first event is a walk-around tasting with sommeliers, wineries and winemakers. This is a great opportunity to experience a variety of domestic and international wines from multiple wineries. I'm looking forward to this new venue Julep , 1735 Hancock St, 92101 (formerly 57 Degrees)
The Grand Tasting
This afternoon is not to be missed. Walk around the waterfront just next to Seaport Village tasting, sipping and relaxing.  
Besides a fun afternoon trying a variety of wines and cocktails, there is a serious competition going on here between chefs. Dozens of celebrity chefs vie for "Chef of the Fest". Many local restaurants share a taste of their favorite bites. Wineries, both local and distant showcase their current wine releases. Local breweries also pour their special craft brews. Enjoy chef discussions, local musicians as well as specialty booths that are only revealed when you get there! We love surprises. One year they had a speakeasy in the middle of what we thought were port-a-potties. You had to walk through the blue-colored door and voila you were in the middle of a speakeasy!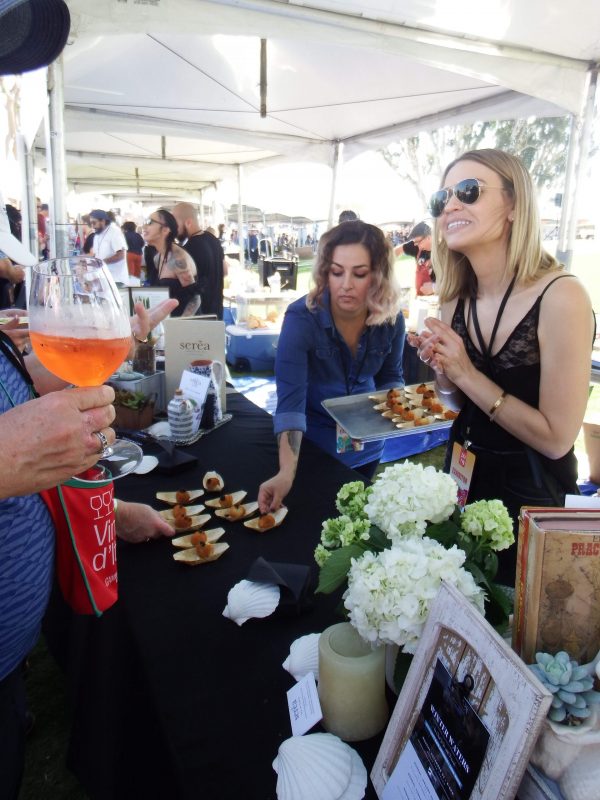 The fun takes place on Saturday, November 13, 11:00am-3:00pm, at Embarcadero Marina Park North, next to Seaport Village, 400 Kettner Blvd, 92101.
For tickets go to: https://www.sandiegowineclassic.com/tickets/#cbp=/grand-tasting-event/
Food
There are still a few Foodie events available. A few that intrigue me are the Farm-to-Table Vegetarian dinner with Verbena Kitchen. Chef Ronnie Schwandt and Verbena Kitchen General Manager and Mixologist Dallas Juanas, have some fun up their sleeves. The evening will consist of five courses each paired with a low alcohol spirit to showcase the dramatic changes that wine-based cocktails have evolved to. Fermentation will be a large topic tonight with discussions on how it enhances flavor profiles of dishes and cocktails.
This dinner will be held Thursday, November 11 from 6-9 pm at Verbena Kitchen, 3043 University Ave, San Diego 92104.
For details and a full menu, go to:
Baja Fire and Ice Dinner
Being right next door to Baja California is such a huge plus for us San Diegans. We get some of the best Mexcian cuisine in the country. Chef Flor Franco and guest chefs will create an open-fire meal with seasonal ingredients of vegetables, seafoods and meats. They'll also have a raw bar with freshly harvested oysters, ceviches and aguachiles. Wines will be from Paolini and Shedeh Wineries.
This will be held Wednesday November 10 from 6-9pm  at Casa de Flor, 3334 5th Ave, San Diego 92103.
There are still a few tickets available at: https://www.sandiegowineclassic.com/tickets/