Santa Barbara County Wine Region
Rugged Pacific Coast Cooling Ocean Breezes, Transverse Canyon and 50 Different Grape Varietals
Santa Barbara County, just two hours northwest of Los Angeles, is one of the most magical, captivating places in California with its mild Mediterranean climate, white Spanish-style villas with red tile roofs that cascade down mountainsides, rolling hillsides and sweeping Pacific Ocean vistas.  Stately moss-covered oak trees dot the hillsides while fat cattle graze lazily. Vineyards cover hills and valleys, a typical bucolic scene that makes you want to explore around the next bend.  Santa Barbara is also one of the most diverse wine regions in the world, with over 50 different wine grapes grown today.
Although the movie Sideways put Solvang on every Pinot Noir lover's map, Santa Barbara County boasts a long history of growing grapes. In the 1760's Father Junipero Serra, a Catholic priest of the Franciscan order, traveled from San Diego north to San Francisco on the El Camino Real, founding 21 Spanish missions throughout the state. The Spanish Friars grew grapes, today referred to as "Mission Grapes", which were used for religious ceremonies and communion. Today, these grapevines are being resurrected, cultivated and made into wines.
California's coastal geography has mountain ranges that run north to south and hug the coast, offering a buffer to the inland valleys. In Santa Barbara County the mountains change and run east to west.  This is called a "transverse canyon" and creates a dramatic effect on the climate. Without mountains to stop the cool ocean breezes, they sweep eastward and are able to penetrate deep inland, cooling down the hotter climate vineyards while keeping the ocean vineyards consistently cool. This is why Pinot Noir and Chardonnay, typically grown in northern climates, thrive in places like foggy Lompoc at the extreme west end of the county.
Santa Ynez Valley, in the center of the county, is a gentrified paradise with a cluster of tiny, quaint towns including Solvang, Santa Ynez Village, Los Olivos, Los Alamos and Buellton. Each has its own personality and strength.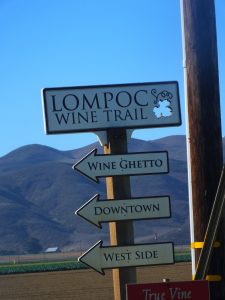 The Lay of the Land, a Geographic Overview
Due to Santa Barbara's diversity, where there was once a single AVA, there are now six AVAs: Santa Maria Valley, Santa Ynez Valley with its four sub-AVAs of Santa Rita Hills, Ballard Canyon, Los Olivos District and Happy Canyon.
To the north is Santa Maria Valley home of the famous Bien Nacido Vineyards and Solomon Hills Vineyards. This often foggy and windswept area enjoys extremely complex soil conditions and diverse microclimates. Chardonnay and Pinot Noir are two varieties which benefit from the ocean's influence and are this AVA's flagship wines. The quality of Santa Maria Valley's grapes is so widely recognized that the fruit is sold throughout the county.  Foxen Canyon lies just to the south and somewhat protected by hills, is a lower altitude and cool climate. Home to Foxen Canyon, Zaca Mesa, Kenneth Volk, Andrew Murry and many more.
Central in the county is the Santa Ynez Valley with an extensive east-west corridor that benefits from the cool Pacific breezes that become progressively warmer inland. Several Rhone and Italian varietals do well here. Here you will find the largest concentrations of wineries in the county.
Ballard Canyon also lies in the central part of the valley. The unique soils found here produce distinctive red wines such as Syrah, Grenache, Sangiovese, Cabernet Sauvignon and Cabernet Franc. Whites that do well here are Sauvignon Blanc, Viognier and Roussanne.
Los Alamos Valley is between Santa Maria Valley and Santa Ynez Valley. With warm days and very cold nights, the fruit from this region attains concentration and balance. Its well-drained soils and a wide range of microclimates allows for a diversity of varietals.
To the west are the famous Santa Rita Hills, with their unique soils and climate that distinguish the grapes grown here from the ones in the warmer vineyards to the east. The marine layer burns off around 10:00 am, then two to three hours of sunshine until the off-shore winds pick up, cooling things down again. This maritime influence, combined with the limestone soil is the perfect place to grow Pinot Noir and Chardonnay grapes. This AVA ends in the west at a small military town named Lompoc. Here you'll find the Wine Ghetto (an industrial complex) with a large cluster of winemaking and tasting facilities including Brewer Clifton, Tyler, Zotovich and Flying Goat. Don't be fooled by the name- the true meaning is "neighborhood" and that's exactly what this area is.
The far eastern edge of the valley is where you'll find Happy Canyon. This inland area offers a significantly warmer climate that ensures complete maturation of later ripening varieties. The rolling hills, high slopes and varied soils of this region are best suited for growing Bordeaux varieties such as Cabernet Franc, Cabernet Sauvignon, Merlot, Petit Verdot and Sauvignon Blanc. Syrah and other Rhone varieties also grow here offering rich, concentrated fruit.
Related Article: http://www.winefoodexplorer.com/day-tripping-wine-ghetto-spending-fun-day-lompoc/
Winemaker's Weigh In
Larry Schaffer, owner and winemaker at Tercero Winery, is well-known in the community for his knowledge and passion for Rhone Wines. He belongs to the Rhone Warriors, a national organization that works to promote and educate the public about domestically produced Rhone variety wines. These legendary grapes from the south of France are finding new homes in Santa Barbara. And they are happy.
Larry weighs in on some of the issues that are happening in the valley. "The Rhone varietals not only survive in each of the AVA's within Santa Barbara County, they excel," Schaffer says. "Some varietals do well in all climates within the region, such as Syrah. Whereas others do better in moderate to warmer parts of the area, like Mourvèdre and Grenache. I firmly believe that there is no better county in the state that has the potential to produce 'balanced' Rhone wines than Santa Barbara County."
There was a lot of discussion among the wineries and different vineyard associations regarding the necessity or possibility of dividing the area into sub AVAs. Larry weighed in on the issue, "I was not personally involved in the creation of any of the various AVA's that have been created in Santa Barbara County, but I am intimately familiar with each and purchase fruit from each. On the one hand, I am in favor of creating sub-AVAs to denote areas that are geographically 'unique' as long as that is 'expressed' in the fruit grown there; on the other hand, our area as a whole is not as well-known even in Los Angeles, as it should be, so folks are not going to know the Los Olivos District any more than they will know Ballard Canyon, but they hopefully will know Santa Barbara County as a whole."
Bob Lindquist, owner and winemaker at Qupé, (pronounced Koo-Pay, is the Chumash Indian word for California poppies),  specializes in Rhone style wines from the famous sustainably-farmed Bien Nacido Vineyards in Santa Maria and the organically-farmed Ibarra-Young Vineyards in Los Olivos. Bob has been an innovative winemaker and a benchmark for other vintners to aspire to. His Central Coast Syrah has been named "Best Syrah under $20 four times: 2000, 2002, 2003 and 2006. His Block "Y" Chardonnay from Bien Nacido Vineyards has been lauded as one of the Top 20 best Chardonnays under $20.
 Bob fell in love with the region in 1976. The climate lured him. He prefers a cooler climate than Paso Robles to the north. "I'm an avid baseball fan. Dodger stadium is close enough to Santa Barbara," Lindquist says. The lure of high-quality grapes and the Dodgers was what allowed him to set down roots and help Santa Barbara make a name for itself in the wine world.
Bob has supported the subdivision of the county into six AVAs. "Anything that makes a wine growing region more defined to the consumer is a good thing. I guess the only hindrances are those that get left out of an area they think they should be included in," he said.
 According to Larry, it's all about the marketing. "The most successful AVA thus far has been the Santa Rita Hills, due to the strength of their marketing and the upswing in the interest in Pinot and Chardonnay from our area over the past decade or so. Others, though, have fared less successfully. For instance, even though some of the best Sauvignon Blancs in the state and many wonderful red Bordeauxs are now being produced in the Happy Canyon area, the marketing of the AVA has been lacking, and therefore awareness has been poor as well.  Ballard Canyon folks have worked hard to establish the area as the first AVA centered on Syrah, but I don't see much regional awareness of this," Schaffer said.
"The biggest challenge our region continues to have is perception and marketing. We continue to be known for Pinot Noir and Chardonnays, as those continue to be two of the most widely grown varietals in our area. But we have so much more to offer, if only people knew. We have many unique challenges in our area compared to other regions, including San Luis Obispo and Paso Robles."
A vocal minority have created situations whereby production facilities and tasting rooms have difficulty getting approved in areas like the Happy Canyon and Ballard Canyon AVA's. This has prompted the need for more tasting rooms. Los Olivos, which at one time was a stagecoach stop, has become the winetasting center of the valley, with many wineries opening tasting rooms here. Wine lovers can browse the cute one-horse town and try some of the county's best wines. Not to worry if you don't enjoy wines, there are art galleries, garden stores and cafes.
"I came to Santa Barbara because of the vibe of the area. I like that the product was more important than the 'pomp and circumstance' so widely associated with many areas north of us. I was intrigued by the Rhone variety wines that have been produced here for decades by folks like Bob Lindquist of Qupé Vineyards, Andrew Murray of Andrew Murray Vineyards and the folks at Zaca Mesa." Larry said.
Larry and many others in the wine industry believe in the potential for this area to become as well-known for their Rhone variety wines as they are for their Pinot Noirs and Chardonnays. To Bob Lindquist the future is so bright he's going to have to start wearing shades!

Author: Robin Dohrn-Simpson