"Flavor is the best part of the experience," my friend rightfully said as we savored the flavors of Sole Luna's Italian food. Although I stopped in the middle of my bite when she said that, it's so true, I just never used those words.
Sole Luna Restaurant at the base of the El Cortez Hotel now turned into condos in downtown San Diego is a gem of a restaurant. Owned by husband and wife team Elisa and Michele Italy. Michele Borelli graciously hosted my lunch. He is such an amiable and generous host.
For San Diego Restaurant Week they will offer an appetizer, main course (with a chance to upgrade to short ribs) and dessert -2 desserts or a limoncello. You can also add 3 drinks for $15.00. I enjoyed a Prosecco, Montepulciano Abruzzo and Limoncello. All imported from Italy. All delicious.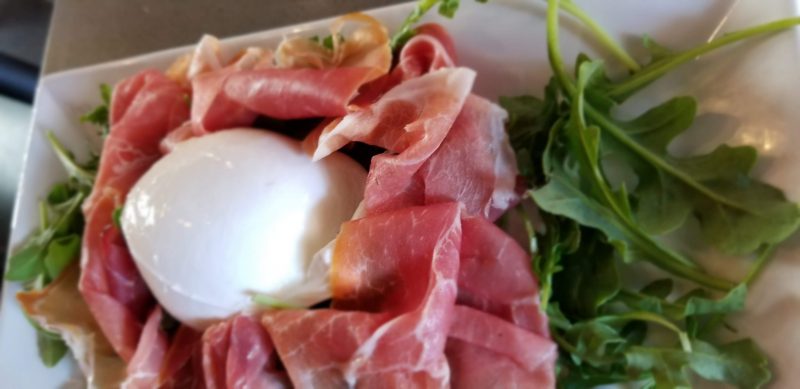 Appetizers Burrata e Prosciutto di Parma with imported cheese from Italy.
Polenta Crostini- polenta cake with mushrooms, cheese and prosciutto. The mushrooms were marinated in something great- I don't know what, but I liked them (and I don't really care for mushrooms).
Our main course options were their Signature Lasagna and their Saffron and Mushroom Risotto
Handcrafted Saffron and Sausage Risotto
Signature Homemade Lasagna
Dessert was equally awesome. The Tiramisu was absolutely the best I've ever tasted! It's a perfect mix of ladyfingers dipped in coffee, coffee-flavored liqueur, mascarpone cheese and cocoa powder. Absolute best I've ever had.
Tiramisu
Parking was pretty convenient for the middle of a workday. There was free parking one block away, and a variety of parking meters right on the street.
This restaurant hosted me for this meal. I feel that I owe you the truth, although they hosted me. Let me just say that I highly recommend enjoying a meal here. If you're gluten-free or vegan they even have options for you.