Spain's Version of French Champagne
Cellers Domenys is one of the most important and oldest cooperatives in the southeast of Catalonia. To help you place this area, it is on the east coast of Spain whose main town is Barcelona and is bordered by the Pyrenees Mountain range. It was founded in 1917 in Sant Jaume dels Domenys. Today they are part of a co-op of more than 600 members and over 3,000 hectares with a commitment to the environment. The main task of this winery is to make Cava.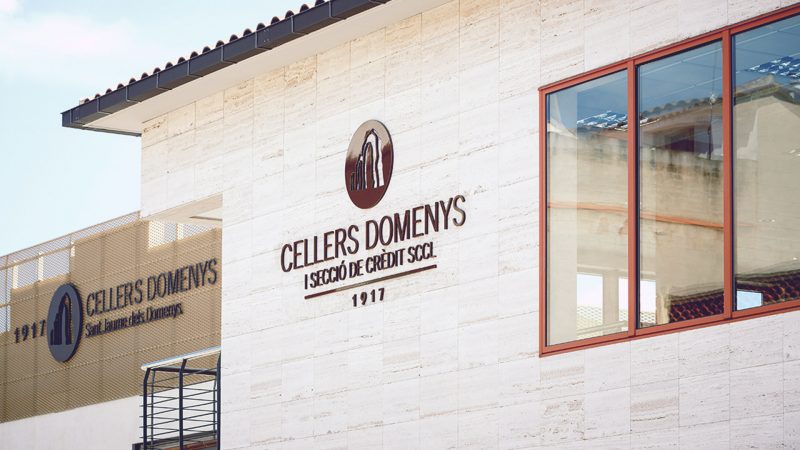 What is a Cava?
Spanish sparkling wines are called Cavas. Typically Cavas are made from three grapes: Macabeo, Xarel-Lo and Parellada. These names don't typically roll off the tongue of an American tongue.
Macabeo, (called Viura by locals) this white wine grape, is relatively versatile and grows in both Spain and southern France.  has faint floral aromatics and a lemon flavor somewhat bitter finish. 
Xarel-lo (sounds like Cheryl-ooh) is more aromatic with rich floral aromas and pear/melon-like notes
Paralleda offers high acidity and zesty citrus flavors
Tres Naus Brut translates to Three Naves Brut. I wonder if the naves refer to the three grapes used in making this wine. Brut means that the wine is a dry wine. The three grapes together create a fruity sparkling wine, however, it is not a sweet wine.
Making Cava the Traditional Method Champenoise
This Cava, Tres Naus Brut, was created in the method champenoise, which is defined as:
Méthode champenoise, also known as the traditional method, is a sparkling wine production method whereby wine undergoes a second fermentation process in the bottle to produce carbon dioxide—the engine behind that soft, bubbly mouthfeel in sparkling wine and Champagne.
Tasting Notes:
I wrote that this wine was very nice! It had a bright straw yellow color. Light and fruity. The tasting notes say dry with tropical aromas and nuts, silky, voluminous and with a continuous and integrated bubble.
Food Pairing:
We paired this wine with salmon, cream cheese and capers.