Girls just wanna have fun! Or so the song goes. I know I do. So, why not try wines from Moravia, the 2nd most popular wine region in the Czech Republic. Also called the "fun" part of the country, 60% of Czech wines are produced here.
So it seems time for us to learn about their wines. Thanks to the Czech Tourism and Vino Z Czech, on a sunny afternoon in Southern California I did just that.
The history of wine in Eastern Europe is very intriguing with periods of expansion and contraction. Periods of Muslim Ottoman rule, whose faith forbade wine consumption. Periods of the debilitating disease Phylloxera, World Wars, Communist control and political uncertainty. Gorbachev tried to get rid of vineyards in an effort to curb alcoholism.
Today, however, the wine industry is a strong and thriving industry. Wine laws have been updated as have vineyards and wineries. The majority of the Czech Republic's production is in white wine. The principal grape is Welschriesling, utilized for its high acid content and spice, almond like flavors. Cabernet Sauvignon has recently been produced. Today there are 18,000 winemakers in the Czech Republic.
Today we were set to taste six wines.
Gruner Veltliner Michlovsky, 2011, $16.00
Gruner means green and Michlovsky is the winemaker. This wine is very light, I could not even smell it. No nose, no depth no back flavor. Others in my group said it had a chalky finish. In all fairness, I think the cheese that we paired it with totally overpowered the wine.
Welschriesling Spielberg, 2011, $23.00
We called this a "meadow in a glass". The grassy nose is intriguing.  It also has a grassy flavor. The pairing that was stellar for this wine was an onion and bacon tart. I was shocked- but it went so well together! One wouldn't normally think of pairing a Riesling with bacon, but it was perfect. It also paired nicely with a sweet baklava.
Pinot Blanc Vyskocil, 2009, $23.00
This wine has a golden color from being aged in French Oak.  Don't let the light color fool you, it is very full-bodied and food friendly. Comments on this wine were that it has a strong kumquat and mango nose.  We paired two different cheeses with this wine and they all worked perfectly: Brie cheese and Comté French cheese (from Costco). It also paired nicely with a sweet baklava and a crab salad. Very versatile, for sure.
Pinot Blanc Speilberg, 2009
The nose of this wine is very floral, similar to talcum powder. This wine was our second favorite wine and paired nicely with sushi, green vegetables cheese and salads. The consensus of the group was that this wine will be very popular with Americans when it gets introduced to the public.
Riesling Michlovsky, 2011, $19.00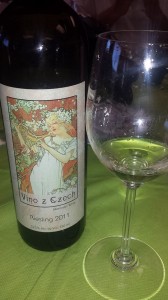 This Riesling presents itself with an aroma of petrol, soccer ball, basketball- a very rubbery nose. Don't panic. This is a typical smell of Riesling.  The flavor is also typical of Riesling: honey, walnuts and spices. The favorite pairing for this was grape leaves with a spicy dill tzatzki sauce. It also paired nicely with baklava.
Rivaner Valtice, 2011, $16.00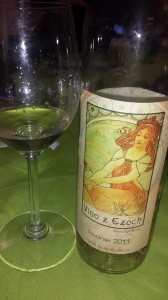 The grape of this wine is a Müller-Thurgau. The varietal was created by Hermann Müller from the Swiss Canton of Thurgau in 1882. Now it is very prevalent in Germany, Austria and the Czech Republic. This wine is what I call "Sunday sitting on the patio drinking wine wine". Easy drinking, juicy, fruity, it is a stand-alone wine, but if you want to pair it with food, try it with sushi.
Rouci Stepleton and Springer, 2007, $40.00
A very unique wine, it is primarily Pinot Noir with some St. Laurent. The wine us well-constructed in a "New world style" but definitely has an "Old world elegance".  The surprise food pairing with this wine was Sriracha chicken wings. The spiciness could hold up to the Pinot Noir of this wine.
Our hosts had one more wine up their sleeve. In fact they were giddy with anticipation of sharing this surprise with us.
Modrý  Portugal 2012
The grape varietal Blauer Portugieser, is well-suited as a table grape. But, it turns out that it can't be sold as a table grape as that is illegal in the European Union. Usually this grape is made into a rosé.
The labels on these wines are spectacular. They are by Alphonse Mucha, a Czech Art Nouveau painter well known for his images of women. To peruse his gallery go to: http://www.muchafoundation.org/
This introduction to Czech wines has whet my appetite to explore more European wines. I look forward to tasting many more.