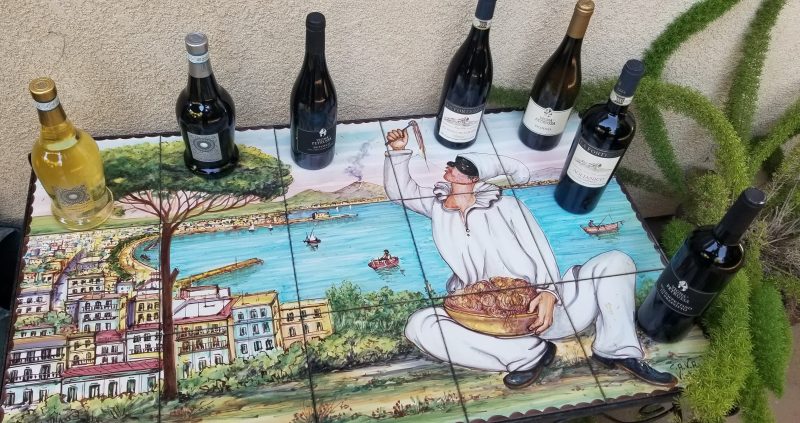 Unique Italian grapes: Turbiana and Refosco
One of the fun things about my Wine Review Council is the opportunity to learn about new wine regions and wines. This month we gathered to learn about two northern Italian wine regions- Lugana and Schioppettino.
Lugana is a place, a wine and an appellation. It is the land of castles. The wine/grape can be expressed in so many ways, that's why all of the wines are different and unique. This is the only place in the world that grows the Turbiana also called Trebbiano di Lugana grape. One grape- hundreds of expressions.
There are 14 members of this grape family in the National Registry, with 544 grapes registered in Italy. (However, there many more that are not registered.) This grape family is related to Verdicchio.
This grape is thick-skinned and doesn't break easily, which is great to survive a variety of weather issues such as hail that can devastate a vineyard. Due to this skin, it offers lots of flavor and acidity.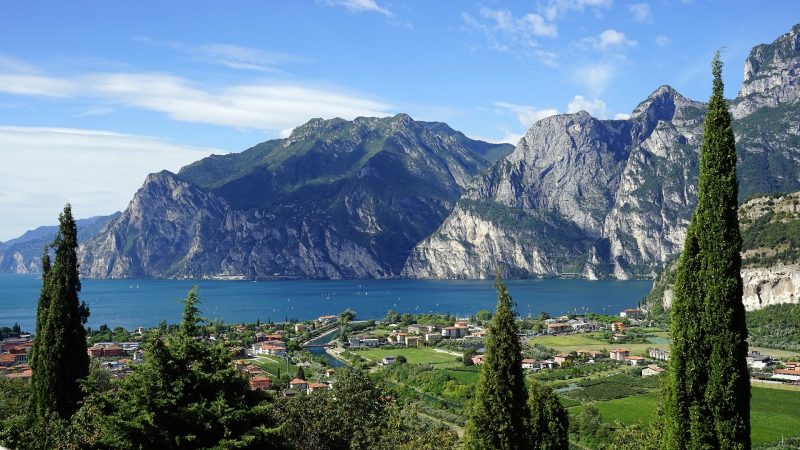 We talk a lot about terroir in the wine world. Terroir is defined as the land, soil, heat, cold, rain, hail and the likes that contribute to the grape expression. Lake Garda a large inland glacial lake between Switzerland and Italy. The soil has decomposed and traveled many miles down the lake bed. There are hillsides with different soils than the soil at the south of the lake where it has traveled miles downhill. Due to this one grape can have a diverse set of flavors depending on where it's grown.
Tasting notes of this grape say there are examples of notes of pineapple, mandarin orange and the classic green almond flavor so common in Italian wines. The bitter almond note morphs into hazelnut-like flavors as the wine ages and oxidizes. Several of the sparkling wines have a golden yellow hue and notes of apple, peach, lemon and pear.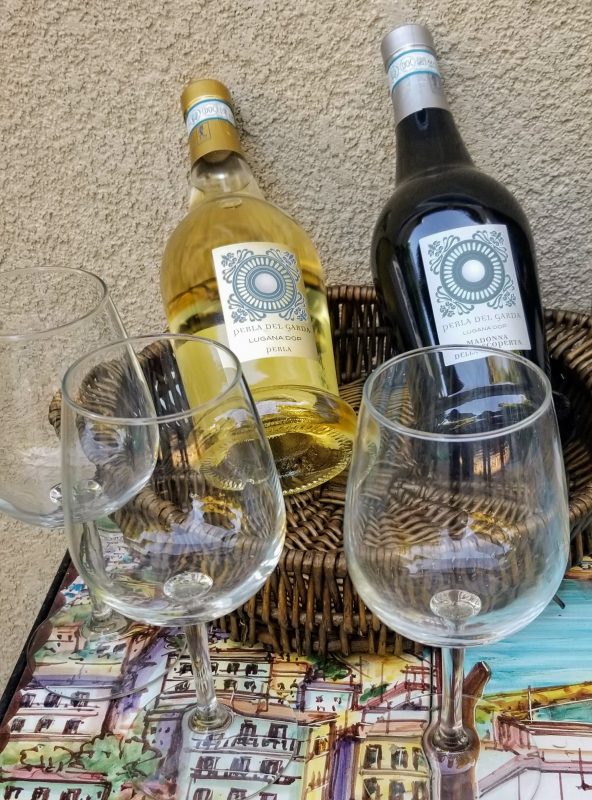 Perla del Garda Winery supplied many wines for us to from the hills of Lonato del Garda. Their vineyards stretch 30 hectares south of the lake along the road dedicated to the Virgin "Madonna della Scoperta". Located 800 feet above sea level, this is a Certified Organic Winery whose vines were planted in 2000 grows around a dozen grapes.
Two wines from this winery were a 2018 Perla del Garda Turbiana. This light yellow wine had the classic pineapple, mandarin orange with the classic "green almond" flavor, and on the palate, there was wet stone and mineral. The first taste was light and fruity and the finish was definitely mineral.
The 2013 Madonna della Scoperta is a light yellow wine with apple on the nose. This wine had a saline minerality and lemon-like acidity and a green almond flavor. Fermented in stainless steel and aged 10 months in small barrels. I was starting to get the green almond flavor in my mouth. It's a unique flavor that I wasn't familiar with. It was paired with a Bruschetta with hearts of palm tapenade. My interpretation is a nutty flavor. The wine is very acidic and comes across the palate with a lemon-like flavor. There was definitely a wet stone minerality to the wine. It sounds weird, but it wasn't. It was very nice. Light and fruity.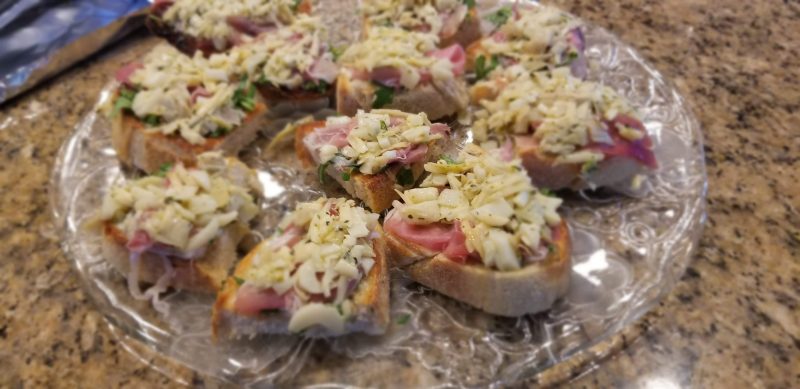 Other pairings were Cantaloupe wrapped with Prosciutto and a tasty puff pastry loaded with feta cheese and topped with caramelized onions and strawberry-rhubarb jam.
Staying in northern Italy, just moving east to the border of Slovenia is the Friuli-Venezia Giulia wine region. Vigna Petrussa Winery is in the heart of Schioppettino mother earth, in the small village of Albana di Pepotto. The countryside is gentle hills surrounds the Judrio River valley. The hillsides form a natural amphitheater. The soil is called "ponka" dry. It is marl and it crumbles in the rain and the sun, enriching the soil with mineral salts and microelements. Hilde Petrussa manages the vineyard and keeps grass under each vine. She also thins grapes and harvests by hand.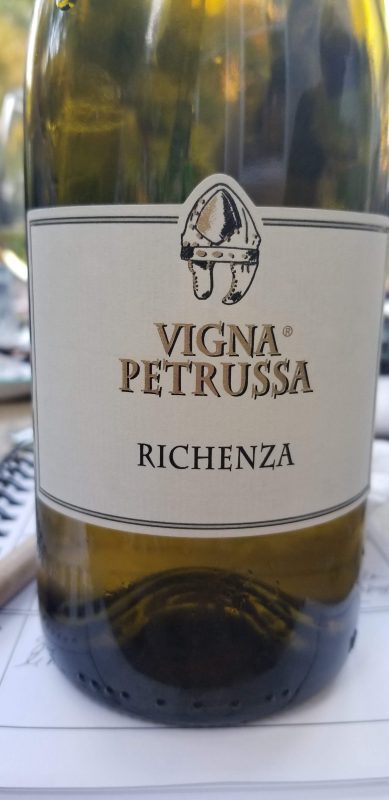 The first wine in her offerings was a 2017 Bianca Richenze. It is a darker yellow color and tastes very similar to Chardonnay. It is soft, elegant and velvety. I enjoyed flavors of exotic fruits.
The next wine she offered was a 2015 Schioppettino di Prepotto. This light red wine had a nose of pepper, cocoa and tobacco. The flavor was bitter it had a retsina-like quality. Conversely, it had a fruity freshness and rich tannins. It was perfect to be paired with the sweetness of BBQ sauce and meatballs. I feel that this wine would do well with mushrooms, roast meat and noble wild game.
Another unique wine that we tasted was a 2016 Refosco Dal Peduncolo Rosso. I've only had this wine in San Diego, so I was excited to try another winemaker's version of the wine. The grapes for this wine are grown in ponka soil 150 meters above sea level. It is a deep purple wine with flavors of red berries and forest fruit. The tannins were gentle and smooth. It paired nicely with eggplant parmigiana, but would also go well with wild meat such as boar and aged cheese.
All three of these wines were very unique and not like any wines I've tasted from the USA. That's the fun of tasting wines from around the world and learning about new grapes, soils and wine regions.
They're all available on www.verovinogusto.com.