Theopolis Petite Sirah
The wine world is full of strong entrepreneurs, fun characters and passion. Theodora Lee is one of those persons. A dynamic Texan and a trial attorney in San Francisco, she extended her passions in 2009 to wine and purchased Sheep Land in the Yorkville Highlands in Anderson Valley California. After being sighted on her tractor with her silver hair and dubbed her Theo-patra, Queen of the Vineyards. In honor of both International Women's Day and Black History month, I'm honoring Theodora.
She started bottling her own wines in 2014. Working with her consulting winemaker she is involved in all aspects of creating her own wine brand. She sent me three Petite Sirahs to review. I decided to hold one back, as it's young. I'll try it in a year or so. However, my Wine Review Council gathered and paired foods with her wines.
Theopolis Vineyard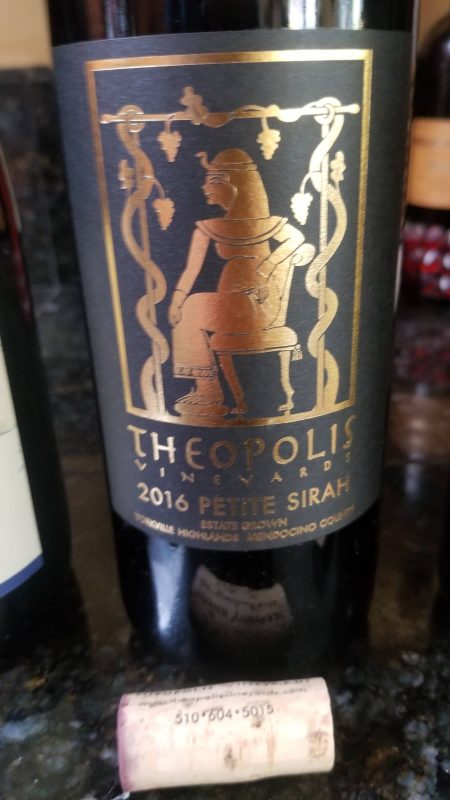 2016 Petite Sirah was awarded Gold in 2019 at the San Francisco International Wine Competition and Gold plus a 94 point score at The Press Democrat North Coast Wine Challenge in 2019. We had lots of discussions on this wine, the tannins are so soft due to being aged 25% in new oak and 75% in neutral French oak barrels for 22 months. We all agreed with the tasting notes on this wine with flavors of cherry and lavender and black tea. This wine sells for $39.00. To purchase this wine click here.
The 2017 Petite Sirah received 96 points at the San Francisco International Wine Competition and 91 points by Wine Enthusiast- Editor's Choice. The tasting notes on this wine reflect raspberry, chocolate, cola and toasty oak. Total different than the previous year. This wine sells for $39.00. Click here to purchase this wine.
We paired both of these wines with a spicy Moroccan beef stew. The pairing was perfect.
Here is the recipe for the stew.
My colleague altered the recipe with
1 tsp chipotle powder
1/2 tsp cardamom
1 chipotle from a can
1 fire-roasted Anaheim Chile
1/2 bag of dried apricots
1 Roma tomato
A huge thank you to  Jo Diaz with PS I Love You. Her organization sponsored these wines for review.