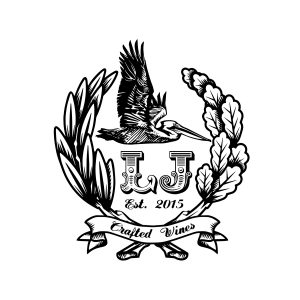 When Lowell and Anne Jooste emigrated from South Africa in 2012, they already came to Southern California with a long history of winemaking.
The Jooste family owned Klein Constantia Vineyards in South Africa and farmed it for four generations. Lowell managed it for 20 years, periodically coming to CA and studying at UC Davis. Eventually he and two other winemakers from France, Anwilka Vineyards, in the famous Stellenbosch region.
After selling the family Vineyards, and Anwilka Vineyards, Lowell and Anne decided that California was going to be their new home. They loaded up the family and moved to La Jolla.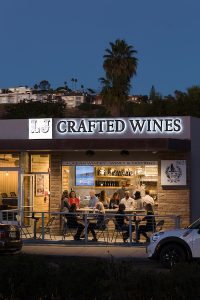 With winemaking in Lowell's blood, he soon decided to try a new concept of wine.
He sourced grapes from various vineyards, mostly Napa Valley or Russian River Valley.
He hired a winemaker/consultant to help make wine. Alison Green-Doran is a well-known and respected winemaker with over 40 harvests under her belt. She has made LJ Crafted Wines from harvest to delivery. Instead of bottling the wine, she ships the barrel down to La Jolla where it is served to guests from the barrel. Yes, there are a few bottles to be had, but the majority of their wine is sold from barrel to growler.
He looked at the beer industry and saw the growler as a very positive means of distributing beer. "So why couldn't it work for wine?" he thought. The growler is a liter, as opposed to a bottle with is 725 ml. Thus the customer gets 1/3 more wine in a growler for the price of a bottle. Another added plus is that the growlers are refillable thus reducing our landfills of discarded wine bottles.
He invented a device that gets put into a wine barrel bung and siphons out the wine without letting air in. He even have a patent pending on this device.
Next, he and wife, Anne opened LJ Crafted Wines (kind of a play on his initials and La Jolla), brought down the barrels and opened a wine bar and tasting room. They have tapped into the community of Bird Rock and locals find this a nice place to go and have a glass of wine and a charcuterie plate.
Then a 6.0 EARTHQUAKE hits Napa and lasted 10-20 seconds. It was enough to destroy half of the barrels they had aging in Napa. Although this was a disaster for the Joostes and for all of Napa, Anne took the barrels apart and created designs on their walls with the barrel staves.
But let's talk about the wine. At a recent tasting, I was able to taste the 2015 Russian River Valley Sauvignon Blanc. The Silver Award winner was light with grapefruit flavors. I am a sucker for New Zealand Sauvignon Blancs, but this wine was definitely a contender.
We enjoyed two different Pinot Noirs from the same vineyard: 2013 and 2015 Russian River Valley, Patient Terrier Vineyard. I really enjoyed the 2015 Pinot. It had complex flavors of cinnamon and clove as well as cranberry and tart cherry.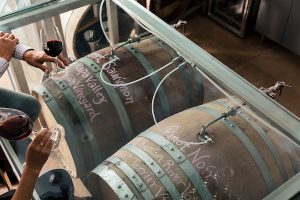 Hands down my favorite wine of the evening was the 2013 Cabernet Sauvignon from Soda Canyon Vineyard in Napa Valley. It is a higher elevation vineyard on Atlas Peak. Our sommelier explained that grapes from this higher elevation have thicker skin than low altitude grapes. This wine had such an intense nose and the taste was equally intoxicating. The tasting notes say "Elegant with spicy blackberry and cassis. Soft, rich and shimmering with berry and mocha." And it was awarded a gold Medal and 92 points. Too bad they lost 12 barrels of this beauty in the earthquake.
It's so refreshing to see new innovation in the wine industry. The whole concept of "barrel-to-growler" is new and exciting. The idea of not bottling wines, but putting it in reusable growlers is exciting. They have entered their wines in a 2017 Winemaker Challenge in the "barrel to growler" wine division. Now that's also something new!