Priorat
What do we know about this area and the terroir? What wines are great representations of this area?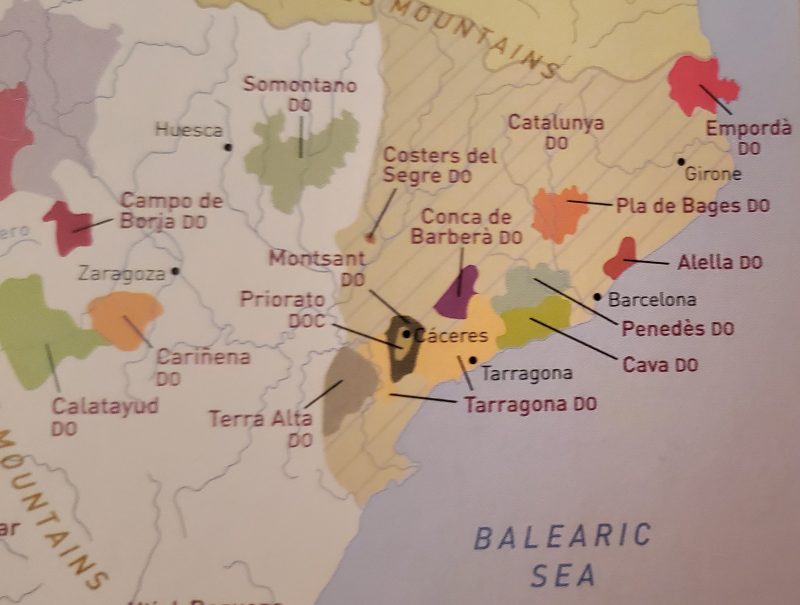 The Mediterranean Coast of Spain, including Catalonia (an autonomous state within Spain where people identify themselves as Catalan first and Spanish second), is famous for its warm climate. Further inland the vineyards experience a dramatic shift to cooler climates at higher altitudes.
Priorat is one of Spain's two DOC wine regions, in the province of Tarragona, in the southwest of Catalonia. Its esteemed status is based on the very high quality of all its wines. The climate is mild with steep-sloped and terraced vineyards of slate and volcanic granite soil. The slate, called licorella by locals brings a mineral nose and flavor to the wines. Another distinguishing feature is the "Hairy Garnacha" which gives much more color and depth of flavor than other clones of the variety.
Grenache, Cabernet Sauvignon, Merlot, Pinot Noir and Syrah are the main grapes of this region.
Lo Piot 2015, ($17.00USD)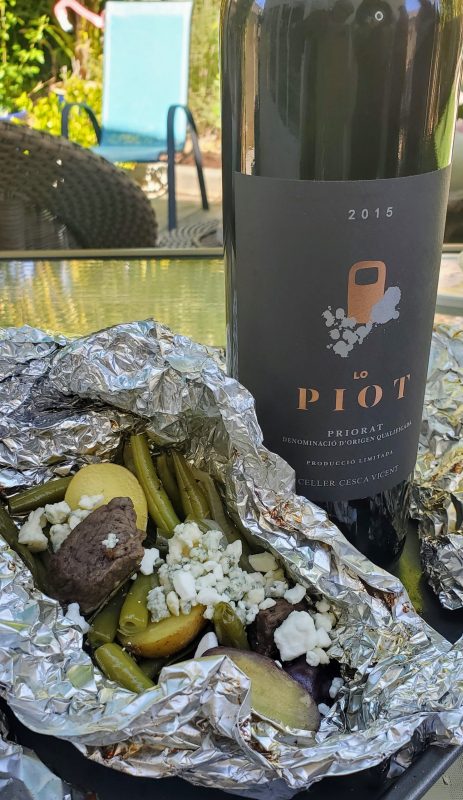 Produced by Cellar Cesca Vicent, a small family-run winery created in 2000 which produces organic wines. The Vicent family has a long history in the area dating back to the Spanish Civil War. Cesca Vicent inhered part of the family's lands in the 1980's and planted vineyards that have now expanded to 11 hectares.
This wine is a blend of Grenache, Merlot, Carignan and Syrah and is aged 12 months in French oak barrels. The Grenache and Carignan give the wine a strong fruit, strength and personality. The Merlot and Syrah give it persistence, consistency and long of mouth.
It is a bold wine that held up niced to the Steak and potatoes grill packet with blue cheese and rosemary. I mean, is there anything better than a steak with blue cheese and a bold red wine? I think not.

To learn more about this winery go to https://cescavicent.com/at
2016 Terro Remota Camino
Translates to Remote Land. Terra Remota Winery began in 1999  in the outskirts of Capmany and Sant Climent Sescebes, in the middle of a forest, just 7 miles from the Mediterranean Sea. This area is a solitary area that appears to be far removed from the rest of the world and thus the name. Although it's remote the area has been inhabited for millennia. 
Remains of settlements belonging to the Iberian culture have been documented in the region, thus the logo of two symbols attributed to these ancient communities found engraved on blocks of granite–O+.
I would love to see this winery as it was designed with a few caveats: integration into the territory, (the winery is built into a hillside and the rooftop is covered with vegetation), respect for the environment (the building is oriented north which contributes to its temperature control and enables electricity consumption to be substantially reduced), technical functionality, contemporary design (modern yet enduring), transparency (open to letting visitors see the wine aging cellars and winemaking areas).
We tasted this 2016 Red Wine blended from Grenache, Syrah and Cabernet Sauvignon. This beautiful deep garnet-colored wine had a nose of fresh, complex and intense red fruits: raspberry, red currant, blackberry, vanilla and cinnamon notes. When we tasted this wine it had a complex flavor with the same fruits as the nose. The tannins were soft. I call this wine elegant.
We paired this wine with a red wine risotto, which turned out to be a perfect pairing. Although this could easily be paired with grilled meats or game, it also held up to this vegetarian dish. In fact, we felt that this was a perfect pairing.
To learn more about this winery go to:https://www.terraremota.com/en/
2019 Anima Nua Cor Viu
Another organic wine today was this Tempranillo from Cellars Domenys in the province of Tarragona. The argillaceous soil comes from the surrounding mountain ranges. The temperature has a huge diurnal shift of temperature between day and night (which grapes love). Hot days and cool nights make for happy grapes.
This deep purple-red wine is bright and clean. The nose is complex and crisp with fruit berries such as black-currant and blueberries. This wine is smooth with round integrated tannins. The flavors stayed in my mouth for a long time.
We paired this wine with Pan con tomate e gueso de cabra (goat cheese).
Other suggested pairings are; Hard cheeses, cold and cured meats, Iberic-ham, and elaborate dishes made of game, chicken, and red meats.
To read more about this winery go to: https://domeniowines.com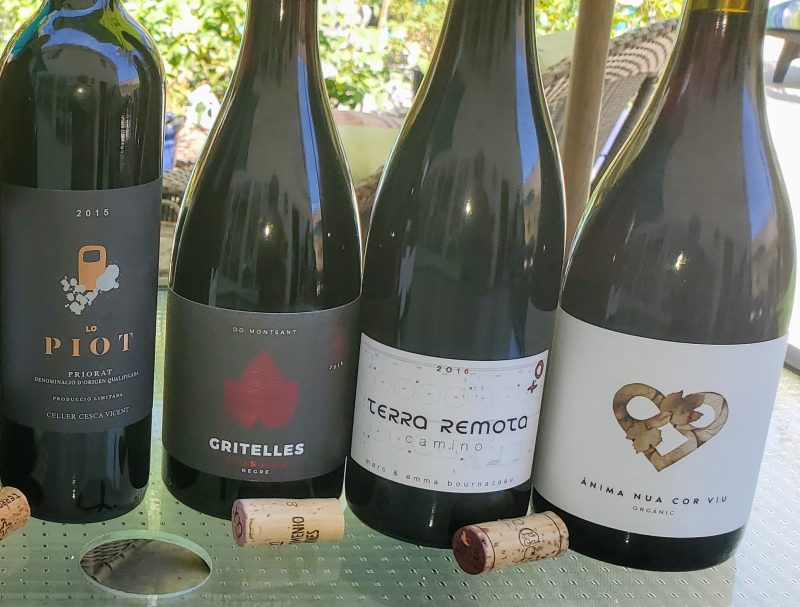 I learned so much about Catalonia in this wine tasting and food pairing. I hope you did too