The Julian Station is neither in Julian nor a station. It is the hub of Wynola, three miles outside of Julian. Julian Station was once a boarding house, store and post office. Later it became an apple packing plant and cider house. Wynola might be a tiny blip on the map but it is worth a stop, look and see. This station is constantly on the move. Inside the station is a variety of unique shops, tasting rooms and a restaurant.
"We were looking to move from Ocean Beach out to the back country and the owners of this building made us an offer we couldn't refuse," said Albert Lewis, of the roundabout way he and his wife, Lydia, took to move from the city to the country. "I had a couple of businesses in town, but we just felt we wanted to be in the countryside." So they took the risk and moved their family to Wynola.  Today, they have transformed the facility into a successful backcountry public market with a mission of fun, memories and facilitating dreams.
"I love the Station, but my real passion is winemaking," Albert says. "We're in the process of getting bonded and licensed. We should be ready to open our tasting room in the fall. We'll also sell our Hemp Love Chocolate and Righteously Raw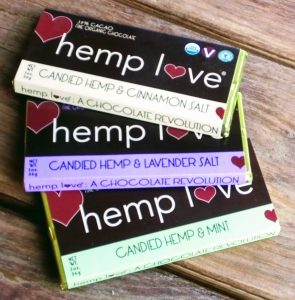 Eclipse organic and local chocolate." Besides featuring his own wines, Albert plans on offering other local wines for wine tasters.

Julian Hard Cider anchors the front with their new tasting room. You've probably noticed that there is a cider revival and this business was
You've probably noticed that there is a cider revival and this business was on the forefront of its rebirth. Besides apple flavor, this extremely popular and successful Cidery features cherry, blueberry, blackberry and apple pie flavors. You really have to taste them to see how good they are. A sign on their door says that cider cures excessive nagging, poor choices, bad hair, acute and chronic whining, selective hearing, ignorance and shortsightedness.
Another revival is Mead, the oldest alcoholic beverage, dating back many thousands of years. Golden Coast Mead out of Oceanside has a tasting room offering their locally fermented Mead, an alcohol which is produced by fermenting honey. "Mead dates back thousands of years. It was referred to in the Bible. It has even been thought of as medicine," Frank Golbeck, co-owner of the Meadery says with an animated smile on his face, reflecting a huge passion for his business. "Even Beowulf drank Mead after slaying the monster known as Grendel, in the Old English epic poem." Frank laughs. "Shakespeare, Chaucer, and Tolkien all refer to Mead in their writings. We're just bringing it back to the modern world."
Currently they are offering four different flavors: Sour, O.B. Dry, Speak Easy and California Oak. You'll just have to try them to see their differences. Some say this light and refreshing drink starts like a beer and ends like champagne. "It is definitely sunshine and flowers in a glass," Frank says with a sly smile on his face.
Want a cold beer? The Cooler Tap and Tasting Room is a relaxed beer pub with a welcoming patio covered with red umbrellas. They feature locally crafted beers such as Stone, Nickel and Julian Brewing Ales.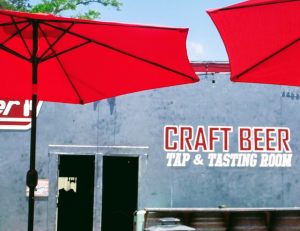 Anchoring the station is Mr. Manitas Taco Bar and Fruteria. This 1940's food counter is a replica of food stands that you see down in Mexico with corrugated metal siding. They offer organic (when at all possible) and locally sourced ingredients for their barbecue taco bar, salsa bar and other Mexican favorites. Try their smoothies, acai bowls or homemade popsicles while sitting on the patio listening to live music.
No visit to Wynola is complete without a visit to Jeremy's on the Hill.  Chef Jeremy Manley has been working in a kitchen in a variety capacities since the age of ten. It wasn't too much of a surprise that after high school he headed to San Francisco to study at the world famous Le Cordon Bleu College of Culinary Arts. In March 2008 Jeremy was ready to start his own adventure with Jeremy's on the Hill.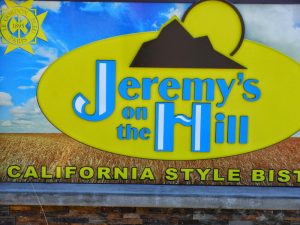 Jeremy's on the Hill is a destination restaurant and Chef Jeremy wants to lure you from the seaside to the countryside, via his unique and tasty creations. It's working! He is constantly changing his menu featuring seasonal fruits and vegetables
"The local heirloom tomato BLT with avocado and the house garlic fries are my favorite," says Carmen Micheli on a visit from Temecula with her children. "Oh and the Julian Apple Salad. I always love the local selection of wines and beers.
Not to be outdone, her 7-year old son, Connor, chimes in "Chef Jeremy is the coolest. He lets me watch him in his kitchen. He's friends with the farmers and even helps the kids at school eat better. He makes the best Apple Salad, Carrot Cake and Crème Brûlée in the whole world. I wish I could eat those every day. I want to be a chef like Jeremy when I grow up." Chef Jeremy has definitely inspired the next generation.
Get reservations at http://www.jeremysonthehill.com.
This fall when you head out to Julian for Apple Days and other fun events in San Diego's back country, make Wynola a stop on your itinerary. And save space for a Jeremy's dinner. Tell them Connor sent you.