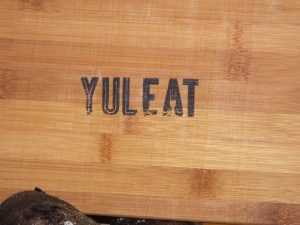 In Montreal, eating is entertainment. A passion. Food is social. Montreal has the largest number of restaurants per resident than any other North American City. In fact, the tourist districts have 66.3 restaurants per square kilometer. Any food type you want you can find it in the city. In 2014, Thrillist Media Group ranked Montreal as the "13th best food city in the world".
In Montreal it's considered rude to ask someone what they do for a living, within the first hour of meeting someone. Instead you ask someone what they do for fun. Eat. Enjoy. Relax. Socialize.
Montreal is famous for Poutine, which they invented in the 1950's. A plate of French fries smothered in a variety of sauces (usually a gravy) and cheese curds. Bagels that are baked in gas ovens and lighter than traditional bagels and Smoked Meats.
Second to food, festivals are the city's passion. Montreal has over 100 festivals a year devoted to food, music, comedy and fashion. No matter the season, time or weather, Montrealers flock to festivals and this one was no exception.
Enter YUL Eats Festival. (YUL is the 3-letter airport code for Montreal. The name seemed apropos since Delta Airlines was the official sponsor) A festival of 30 food trucks, food markets, a book fair focusing on cookbooks, chef's demonstrations and discussions, a waiter race, culinary workshops and music.
With so many restaurants why then would the festival need food trucks? Local restaurants paired with food trucks, bringing their meals to wheels.
Grumman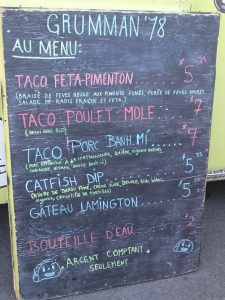 78, the original food truck in Montreal, featured: Taco Feta Pimenton (Paprika), Taco Poulet Mole, Taco Pork Banh Mi, Catfish Dip and for dessert: Gateau Lamington (a dessert of thick, rich, sponge cake coated with a layer of chocolate sauce,then coconut, then a fruit jam.) A very eclectic menu.
Au Pied de Cochon offered: Beignets with fresh fruit, Poutine Foie Gras, Duck BBQ and Pork Dumplings.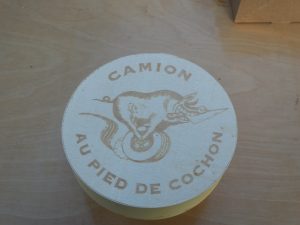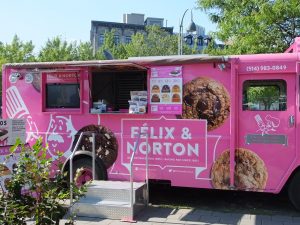 Felix and Norton Cookies' pink truck graced the entrance of the fair, plying guests with their famous cookies. Their philosophy that a good dessert with butter and pure chocolate can solve most of the world's problems.
The market was inside an urban chic dilapidated warehouse painted in bright yellow and orange. Zipliners screamed past festival goers as they zoomed overhead and across the waterfront and to a side entrance.Quite a way to make an entrance.
Many retailers showcased their foods such as sausages, Maple Syrups, Jams and Jellies. A bookstore sold out of many local cookbooks. Chefs adored like rock stars, signed their books to lines of fans.
The goal of YUL Eats was to Eat, Discover and Party at the Old Port
of Montreal. Based on the smiles on thousands of faces, they were a success.
Follow food and you'll follow tradition. Montreal is leading the way in Fusion Cuisine and it's fun to be along for the ride.