I spent a delightful afternoon spent at District Wine in  Long Beach, CA  to see just what makes a great wine bar.
Here's what I came up with: an approachable location, in a neighborhood where people can walk to, accessible parking, near other things such as the Long Beach Entertainment Center.
Comfortable furniture, lounge atmosphere, sitting areas where you can visit with your friends. District Wine offers sofa seating, bar seating, low tables, high tables and a private room with seating for approximately 12 people.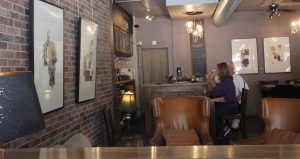 Helpful, nice and informative staff. All of the staff have one goal: their guests' comfort and enjoyment.
Owners Angela and Mark Dutton have worked hard, using their skills in the hospitality world to create an environment that is comfortable, engaging, upscale and approachable. Mark handles the front of the house and Angela will be found in the back of the house, making featured appetizers.
Unique wines that you can't find locally. District Wine has a large collection of wines that I've never tasted or heard of before. They were all great. There wasn't a wine that I didn't enjoy.
Angela has been successful in making great foods with just a convection oven.
Appetizing foods to pair with the wines. Gluten-free options. District Wine offered rice crackers to our gluten intolerant tasters.
The pea tapenade was a highlight for me. Sweet peas, garlic and parmesan cheese served with a warm baguette.
Another highlight was the goat cheese drizzled with strawberry jalapeno jam and served with a warm baguette.
I can't forget the Prosciutto Bon Bons which were sweet dates stuffed with tangy fresh Chevre, wrapped in Prosciutto and roasted.
If you want a sweet taste enjoy the locally made lemon cheesecake. This creamy cheesecake has lightly whipped lemon and a sugar cookie crust. Perfect with a sweet dessert wine.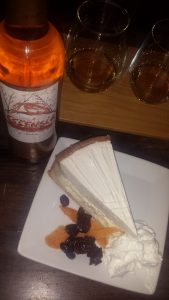 I wish I lived in this neighborhood so I could visit regularly and try all of the new wines that Marc and Angela have found for us.
We'll be back!