Sunday Fun day in Floral Park, Los Angeles
David de Lancellotti, a self-proclaimed wine grower, owner and force to be reckoned with, started Formaglini Vineyards in 2006 as a passion project to connect his children with 4-5 generations of ancestors. David has a huge sense of family: Italian ancestors and future generations. Heritage is where he draws his passion for winemaking. He wanted his children to get a sense of where they came from.
Formaglini is the surname of David's paternal grandmother who lived in La Quercia, a small village south of Bologna, Italy. La Quercia translate to oak tree in Italian, thus the Formaglini logo contains an oak leaf.
"My love of tradition and my Italian roots is the true soul behind our Formaglini wine experience," said David.
In 1991 on his first trip to Italy David got lost in Montalcino, Tuscany. This area is famous for its Brunello di Montalcino wine. Here he tasted Brunello and knew that this is what he wanted to do—something in wine. He has been entrenched in Italian wines and Italian winemakers, since then.  "My favorite wine region in Italy is Friuli northeast of Venice (by the Slovakian border). It reminds me of Oregon," David laughed.
"Wines with a subtle balance have always interested me," he said.
That is why he chose to have a vineyard in Oregon as opposed to California, where he lives. He searched and found a small, obscure plot of land in Oregon on 5 acres and planted 4 different clones of Pinot Noir, to see which one was the best. He said "Oregon's story is still being shaped. The region doesn't have a defined reputation outside of the fact that great Pinot Noir continues to be made there."
In the four years since his first planting his vineyard has morphed to:
4 acres of Pinot Noir,  1/2 acre of Lagrein and 2/3 acres of Chardonnay.
David's vineyard is biodynamic, which he feels is the best way to grow fruit. Wine changes based on day of biodynamic calendar. "Try a wine on a fruit day, when it's good, then try the same wine on a leaf day and notice the difference," he explained.
He's attracted to unique wines that are different every year. "I particularly like orange wines and sparkling wines meant to be still."
We tasted four wines:
2012 La Quercia Block Pinot Noir-This big wine is killer! Surprisingly it is his first vintage and it sold out in 90 days.
2014 La Quercia Block Pinot Noir (Barrel sample) -This wine is bright and filled with cherry and raspberry. It is currently being aged in barrels and should be bottled in spring 2016. Keep your eyes open for when it is released and grab a few bottles. It will retail around $45.00
2013 Insieme Cuvee, La Quercia and Verrazano (named from the area where his mother was from in Brooklyn) Blocks (Barrel sample)- This is a unique blend of Lagrein (25%) and Pinot Noir (75%). His vineyard manager had to harvest this fruit early, to save it from an upcoming storm. Aged in new French oak barrels, this wine was my favorite of the day. This wine is elegant. That's all I can say about it. Smooth, well-balanced and elegant. Released in December 2015, there are only 40 cases left. Hurry!
2013 La Quercia Block Pinot Noir– This vintage features big black fruit. There are still about 100 cases left.
Every vintage was different. That's the beauty of wine. "Farming is like playing craps. It's a gamble," he laughed. "2014 was a feminine year, 2015 the vineyard got over exposed. We had very hot weather, about 30 days of intense heat."
In spite of this David is very optimistic about the future. His vision going forward is continue partnering with Italian people. He wants to continue to produce Italian-style wines that are food driven.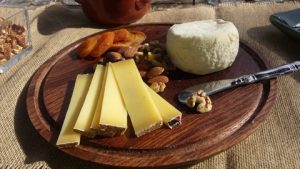 "The vineyard is like a pre-teen. It hasn't begun to show its strength," he said.
Currently he produces between 150-250 cases a year. In the next 4-6 years he will crank it up to 400 cases. He'll also have a Chardonnay by then.
"Every bottle I produce is numbered and has a story," David explained.
I for one will be following his story and see where his next vintages take him.